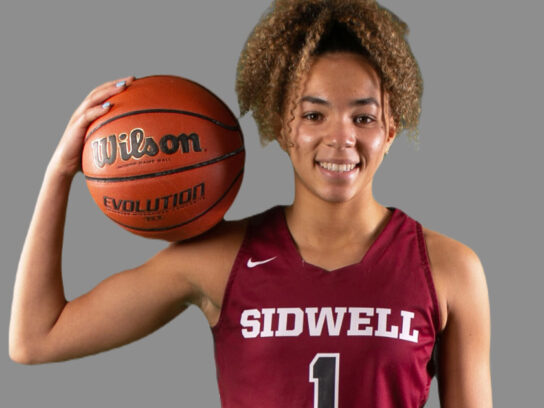 To say that Bethesda basketball sensation Kiki Rice had a great year would be an understatement of epic proportions.
The 5'11" guard averaged 15.8 points, 7.0 rebounds, 5.1 assists and 2.6 steals per game her senior season at Sidwell Friends School in Washington D.C. Those are very good stats but only paint part of the picture. Rice's all-around ability, court vision, and leadership skills are off the charts.
Sidwell Friends went 28-0 in the 2021-22 season finishing as the top-ranked team in the area and in the entire country.
Rice's individual honors included:
• All-Met girls' player of the year
• Gatorade National Girls Basketball Player of the Year
• Naismith National Player of the Year
But wait. there's more. Rice won two gold medals playing for USA Basketball, was named Gatorade high school player of the year in both basketball AND soccer and was named to the prestigious McDonald's all-America team.
Rice was born in San Francisco but moved with her family to Bethesda in 2007. Now a freshman with 11th ranked UCLA, she is the Bruins second leading scorer (12.3 points per game).
Being a member of the Rice family comes with expectations. Kiki is just the latest member of the family to accomplish big things.
• Her mother Andrea played tennis at Yale and is a top nationally-ranked player in the 50+ circuit who has won gold medals in international competitions
• Her father John played basketball at Yale
• Her brother Teo plays basketball at Yale
• Cousin Allen Houston is a former NBA all-star with the New York Knicks
• Two other cousins, Dave Waymer and Julian Jenkins, played in the NFL
• Her grandfather, Emmet John Rice, served as a Tuskegee Airman
• Her great uncle, Hank Kean, played with the Harlem Globetrotters in the 1950s
• Aunt Susan Rice is currently Director of the Domestic Policy Council under President Biden and served as U.S. Ambassador to the United Nations and U.S. National Security Advisor under President Obama
No pressure, right?
(Photo courtesy: Sidwell Friends School)