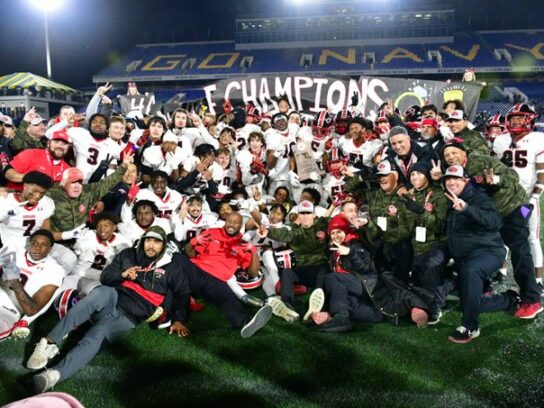 How do you follow an undefeated season and Maryland 4A state title? By doing it again of course.
The Quince Orchard football team repeated their undefeated 2021 season with another undefeated season capped by a Maryland 4A state championship. The Cougars rolled through their opponents in the regular season then beat Clarksburg, Northwest, Old Mill and Broadneck in the state playoffs.
Their 42-9 victory over Broadneck on Nov. 25 at Navy-Marine Corps Stadium in Annapolis capped their second straight 14-0 season.
The Cougar dynasty defeated their overmatched opponents by a combined score of 586-57. They have now won 28 games in a row dating back to their 2021 season opener.
Head coach John Kelley notched his 100th career win in the championship game. He talked to MyMCM a few days after winning his second straight state title and third in five years.