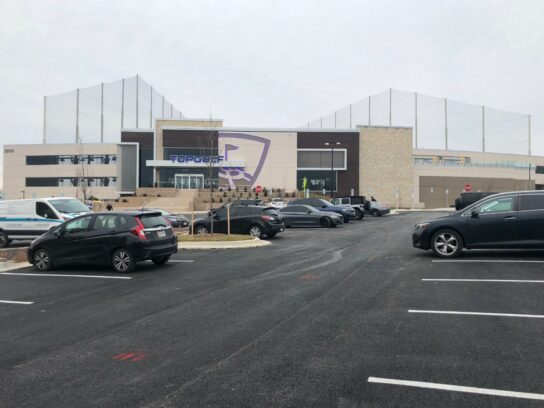 Topgolf laid off many of its employees around the country over a Zoom call Tuesday. A source who was on the Zoom call told MyMCMedia that between 15 to 20 of those employees were fulltime managers at Germantown's TopGolf.
Kara Berry, the head of communications at Topgolf, said in an email she could not confirm the how many employees were laid off. She sent MyMCMedia the following statement:
COVID-19 has had a massive impact on our business and has forced us to re-evaluate the way we must operate moving forward. As a result, we unfortunately had to make the difficult decision to eliminate many roles within our organization both at our venues and corporate offices. For a culture such as ours at Topgolf, this has been a time of deep sadness. Looking forward, we have great conviction around emerging with strength and re-opening venues as soon as it is safe to do so.
The source told MyMCMedia that Topgolf managers, who were fulltime employees, were furloughed without pay since March 27, but they continued receiving insurance benefits. When they were furloughed, managers were told they would have jobs to return to once the furlough lifted, according to the source.
Furloughed employees were told about the Tuesday Zoom meeting late Monday night, and many of the furloughed employees assumed they would be discussing reopening plans, the source said. The source said there were more than 100 furloughed employees from Topgolf venues around the country on the Zoom call, where they were told they would be terminated effective May 3.
Topgolf opened in Germantown January 17. Between 400 to 500 people were employed at the Germantown location, the majority of whom were considered part time, hourly employees (only a small group of part time employees receive benefits at Topgolf).
Thank you for your continued support of Topgolf following the temporary closure of all of our U.S. Venues. Read a letter on all the ways we are caring for our hourly venue Associates. https://t.co/mICqcwAC98

— Topgolf (@Topgolf) March 19, 2020
In a March 18 letter to Topgolf hourly associates, Topgolf Executive Chairman Eric Anderson and CEO Dolf Berle said hourly workers would be paid "for two weeks beyond the last day they worked in a venue."
A message on Topgolf's website says venues around the country will remain closed until further notice. And, like many other businesses around the country, its unclear when Topgolf can reopen.
The message says, "Innovation is at the heart of what we do. That's why we are making changes to help you play safely when we re-open our venues. We look forward to sharing more details with you soon, and we will regularly update this website as information on our plans to re-open becomes available."
On Thursday morning, Topgolf posted the following letter from Berle on its Workplace Facebook (which only employees can access):
Fellow Topgolf Leaders,

In the spirit of our One Team cultural value, I want to make sure you are aware of the most recent events inside the company. Yesterday we connected with Associates across the USA venue and corporate offices and shared news about structural adjustments we have been forced to make which are impacting a significant number of jobs. Our venues have been closed since mid-March, and while we are internally prepared to re-open the external environment is creating ongoing uncertainty as to the timing. The impact of being closed, the uncertainty around re-opening timeframes, and concerns about how the business will perform once we are open have required us to make reductions in our team.

To be specific, we informed a significant number of Associates in our offices and also in the USA venues that we could not continue their employment. Every USA venue, every business line, and every corporate department was impacted. The depth of the sadness that so many of us feel around the departure of so many friends and colleagues is profound. Our hearts go out to the individuals and families who have been affected, and we sincerely hope that many of them may return at some future time. For those who are departing, we have done our best to express thanks for their work, and also stated our commitment to try and support them in their search for new jobs. We have also made an effort to extend health benefits through the end of May to those on our benefits plan. On behalf of the senior leadership team, I hope that each of you will make an effort to join us in being as personally supportive of those who are departing as you can.

The adjustments we have made are designed to ensure that Topgolf may survive and prosper in the future. We are resolute in our mission. We will persist in connecting people, do it in ways that are meaningful in their lives, and in ways that inspire joy. We are making great progress in the plans that will create a safe environment for Guests and Associates once we are able to re-open the venues. The Toptracer business continues to gain traction across the globe. Our Media business is gaining fans at an increased rate on multiple fronts. International franchisees continue to be enthusiastic about building venues in the coming years. Swing Suites is impacted similarly to the venues but will revive. While we are in a time of great challenge, there is also good reason for optimism about our future as a company.

You may be asking yourself if this is a moment where our culture bends or breaks. The answer is no. I am clear on this because this week has been the most significant test of our culture since I have joined the company. The depth and resilience of our culture was evident in the Caring that was in every conversation that occurred with those who sadly are departing. One Team thinking has guided us as we prepare for the journey ahead. I am grateful to work with a group of leaders who do not abandon the culture under duress, but instead they hold onto it with even more conviction.

In the coming days you will be hearing more about how the reductions in staff we have made affect you and the work you are doing. This will be communicated through the leaders with whom you already work closely. It is important that you ask questions and share concerns so that we can together forge the very best Topgolf possible.

Sincerely,

Dolf