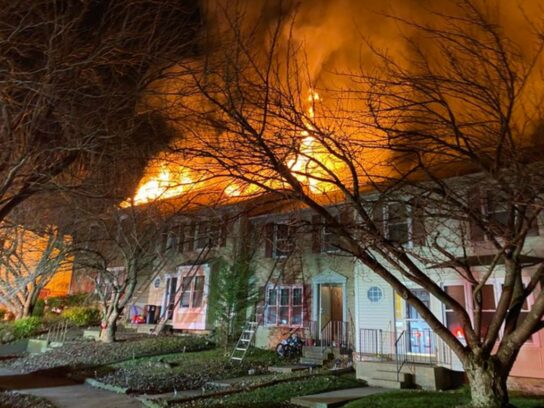 A fire in the 8800 block of Swallow Court in Montgomery Village East in Gaithersburg Tuesday evening probably was started at an electrical outlet on an exterior wall, according to Montgomery County Fire and Rescue Squad.
It spread rapidly and caused about $1.5 million in damages. Fifteen people living in three of the townhouses were displaced, and the Red Cross helped them find a place to stay. According to Pete Piringer, spokesperson for MCFRS, all people and pets got out safely. He called it a "significant fire."
Nov. 25, the MCFRS planned to visit homes in the Gaithersburg-Laytonsville area to remind residents to check their smoke detectors.
ICYMI (last nite) Swallow Ct, Montgomery Village East; an electrical outlet (exterior wall) appears to be point of origin; Cause, electrical fire extending to nearby combustibles & spreading (rapidly); Damage~$1.5M; 15 people (3 THs) displaced; 85 @mcfrs FFs OS; smoke alarms✔️ pic.twitter.com/5eG4S3vG58

— Pete Piringer (@mcfrsPIO) November 25, 2020
Update – 8800blk Swallow Ct, Montgomery Village East; an electrical outlet (exterior wall) appears to be point of origin; Cause, electrical fire extending to nearby combustibles & spreading (rapidly); Damage~$1.5M; 15 people (3 THs) displaced; 85 @mcfrs FFs OS; smoke alarms✔️ https://t.co/Z58zS8eqih pic.twitter.com/X9zgnaUCSM

— Pete Piringer (@mcfrsPIO) November 25, 2020