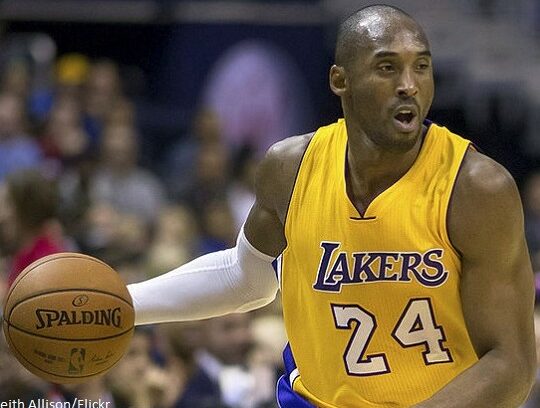 Basketball legend Kobe Bryant died in a helicopter crash in Calabasas, Calif. Sunday morning. The crash also took the life of Bryant's daughter Gianna, 13, and seven other passengers whose names have not yet officially been released.
The 41 year-old Bryant — who played his entire 20-year career with the Los Angeles Lakers — was an 18-time all-star, the NBA's 4th all-time leading scorer, a 5-time NBA champion and a two-time Olympic gold medalist.
Athletes — local, national and around the world — poured their hearts out on social media to express their shock, grief and respect for Bryant and prayers for the Bryant family.
The performances & pride Kobe exhibited as a member of @TeamUSA will never be forgotten. He supported & cheered on his fellow athletes. His power, tenacity, competitive spirit, leadership, & smile will live on forever. RIP Kobe, Gianna, & all who perished in today's tragedy. pic.twitter.com/uEpW3m7Daf

— Katie Ledecky (@katieledecky) January 27, 2020
There's no words to express the pain Im going through with this tragedy of loosing my neice Gigi & my brother @kobebryant I love u and u will be missed. My condolences goes out to the Bryant family and the families of the other passengers on board. IM SICK RIGHT NOW pic.twitter.com/pigHywq3c1

— SHAQ (@SHAQ) January 26, 2020
Statement from Michael Jordan: pic.twitter.com/oI7w6e7HLI

— Estee Portnoy (@esteep) January 26, 2020
As I try to write this post, my mind is racing. I'm in disbelief and have been crying all morning over this devastating news that Kobe and his young daughter, Gigi have passed away in a helicopter crash. Cookie and I are heartbroken. pic.twitter.com/X2vF0M0a1u

— Earvin Magic Johnson (@MagicJohnson) January 26, 2020
Really don't know how to feel! Speechless, numb, hurt, etc. no words can mount to the pain! But your passion, dedication, (MAMBA) mentality, love and knowledge both on and off the floor were exemplar! For that, I… https://t.co/ONvjAmSlkS

— Bradley Beal (@RealDealBeal23) January 27, 2020
Kobe was a legend on the court and just getting started in what would have been just as meaningful a second act. To lose Gianna is even more heartbreaking to us as parents. Michelle and I send love and prayers to Vanessa and the entire Bryant family on an unthinkable day.

— Barack Obama (@BarackObama) January 26, 2020
Most people will remember Kobe as the magnificent athlete who inspired a whole generation of basketball players. But I will always remember him as a man who was much more than an athlete. pic.twitter.com/9EZuwk8wrV

— Kareem Abdul-Jabbar (@kaj33) January 26, 2020
Alicia Keys brought Boyz II Men on stage for an acoustic rendition of "It's So Hard To Say Goodbye to Yesterday" to pay tribute to late NBA legend Kobe Bryant https://t.co/xMpKWYaeIv #Grammys pic.twitter.com/pokpvM10ls

— CNN (@CNN) January 27, 2020
Kobe Bryant's jerseys are illuminated in the rafters of the Staples Center during the Grammys. pic.twitter.com/Db2Y6u8BT1

— ESPN (@espn) January 27, 2020
Dia triste pra nós dos esporte, pra nós fãs e principalmente pra família e amigos de kobe. Com suas mãos se fez lenda, obrigado por exaltar o esporte Kobe… que Deus conforte o coração de sua família e amigos 🙏🏽🖤 #ripkobebryant #24 pic.twitter.com/QPjIy7Fhou

— Neymar Jr (@neymarjr) January 26, 2020