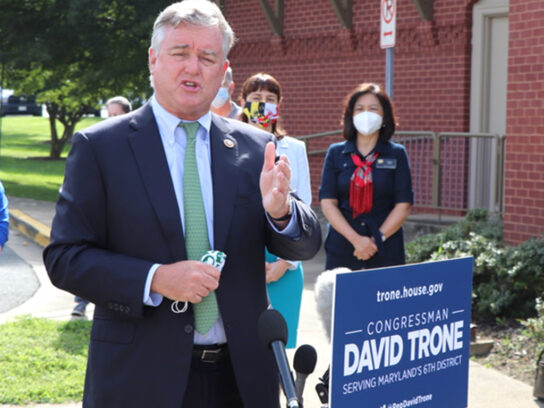 U.S. Rep. David Trone (D-Md.) and several elected officials in Montgomery County are urging U.S. Postmaster General Louis DeJoy not to mess with the United States Postal Service.
Trone held a news conference outside of the Gaithersburg Post Office on Summit Avenue Friday, where two constituents spoke about their experiences with USPS delays.
Victoria Paton, a Gaithersburg resident, expressed fear that the postal delays could have a deadly effect on some.
"The medications my mom, and I, and others take cannot be skipped one day two days or any days," Paton said.
John Compton, mayor of Washington Grove—a Montgomery County community that has only 200 homes—said the absence of a functioning post office would have a devastating effect on his town.
"One of the unusual characteristics of our town is we do not receive mail delivery, preferring to keep our local post office as a place for communicating with the outside world," Compton said. "The obvious solution …is that you fix the problems you don't simply destroy the institution."
Several other elect officials, including Montgomery County Councilmember Evan Glass and Gaithersburg City Council Member Michael Sesma, expressed concerns about voting in the upcoming election, especially because more residents are requesting ballots by mail because of the coronavirus.
"There are already 70,000 Montgomery County residents who have applied for a mail in ballot," Glass said. "We have to make sure that everyone of their votes is counted."
Glass said he's advocated to the Maryland Board of Elections to expand drop boxes across the county "in case the postal service isn't running as optimally as it needs to" come Election Day.
On Saturday, the U.S. House of Representatives is breaking from its August recess to take emergency legislative action against the policy changes made by Postmaster DeJoy. Trone believes action taken to protect the post office should be bipartisan.
"No one should be playing politics with the hard workers at the post office," Trone said.
Related Post
Raskin Leads Rally to 'Save the Post Office' with Leisure World Residents