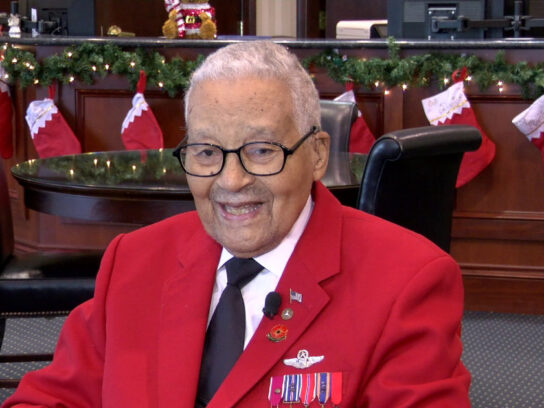 Brigadier General Charles McGee, an American hero, and Montgomery County's most famous World War II veteran died in his sleep Sunday morning at the age of 102. According to a press release by his longtime spokesperson, Vince Mickens, "His family said of his peaceful passing, 'He had his right hand over his heart and was smiling serenely. '"  His son, Ronald McGee,  added, " He was a wonderful human being….I feel proud and privileged to be his son."
One of the last surviving Tuskegee Airmen, McGee flew 409 combat missions in World War  II, Korea, and Vietnam. During and after his illustrious career he received many honors, including The Legion of Merit, the Bronze Star, and the Congressional Gold Medal, among others.
Defying the old axiom "Old soldiers never die, they just fade away", McGee continued to thrive after he retired from the armed services. He dedicated his life to sharing the lessons of the Airmen and encouraging young people to pursue careers in aviation.
He also continued to fly, piloting a private jet in celebration of his 100th birthday.
Brigadier General McGee was a modest, soft-spoken man who never boasted about his accomplishments, always saying instead, "Why me?"
According to a family press release, McGee is survived by his oldest daughter, Charlene McGee Smith, his son, Ronald McGee, his youngest daughter, Yvonne McGee, 10 grandchildren, 14 great-grandchildren, and one great great-grandchild.
The press release concludes, "As the nation mourns, the family asks that we remember the importance and significance of the legacy he left, all of his fellow Tuskegee Airmen, and everyone who played a role in the support and protection of  American democracy."
Funeral and burial arrangements are pending.
We're saddened by the loss of Brig. Gen. Charles McGee, a trailblazer who served as a Tuskegee Airman and flew 409 combat missions. Seen here in 2020, he encouraged the Artemis Generation to fly to new heights by applying to become an astronaut: pic.twitter.com/GBqgRBeNr5

— NASA (@NASA) January 16, 2022
I'm incredibly sad to share that Brigadier Gen. Charles McGee, who flew 409 combat missions in conflicts from World War II to Vietnam, died at his Bethesda home this morning. The decorated Tuskegee Airman was 102.

Thank you sir, for your lifetime of service to our nation. pic.twitter.com/I6ulXUqu28

— Evan Glass (@EvanMGlass) January 16, 2022
Today, we lost an American hero. Charles McGee, Brigadier General and one of the last surviving Tuskegee Airman, passed at the age of 102. While I am saddened by his loss, I'm also incredibly grateful for his sacrifice, his legacy, and his character. Rest in peace, General. pic.twitter.com/3GLNbfRHs7

— Secretary of Defense Lloyd J. Austin III (@SecDef) January 16, 2022
Related post:
Brigadier General McGee's Birthday Surprise – Vice President Harris Calling