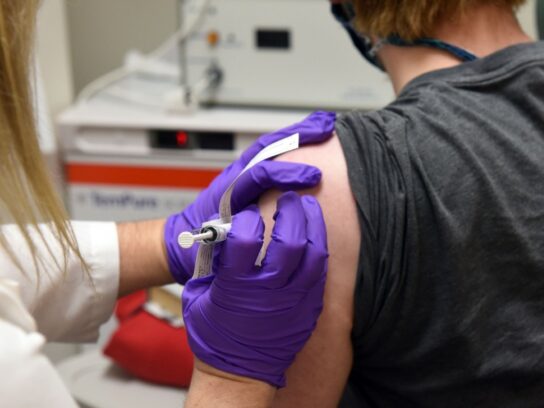 Two Maryland companies are partnering to manufacture  a potential vaccine candidate for COVID-19.
Gaithersburg-based Altimmune, a clinical stage biopharmaceutical company and Vigene Biosciences, a Rockville-based biotechnology company, announced the partnership in a press release July 22.
The vaccine, known as AdCOVID (TM), works to block infection by stimulating antibodies in the nasal cavity and can potentially defend against the infection and prevent spread.
Altimmune aims to conduct the first vaccine trial by the fourth quarter of 2020 and is in talks with several other manufacturing companies to create at least 100 million doses in 2021.
Exciting News! Yesterday, Altimmune, Inc. announced a partnership with Rockville-based Vigene Biosciences @VigeneBio to manufacture AdCOVID(TM), Altimmune's single-dose intranasal vaccine candidate for COVID-19. Learn more about this partnership at https://t.co/t8eaukvOG7 pic.twitter.com/UPKQspuYxh

— Rockville Economic Development (@RockvilleREDI) July 22, 2020
According to the press release, AdCOVID underwent a preclinical trial with the University of Alabama at Birmingham earlier this year. The potential vaccine is expected to survive an extended period of time at room temperature.
Intranasal application could also eliminate the need for highly trained medical professionals, according to the press release.
Altimmune, founded in 1997,  is widely known for developing intranasal vaccines and treatments for liver disease. Vigene specializes in creating viral vectors and providing support to the gene therapy field. The company was founded in 2012 and expanded to a 51,000 square-foot facility in 2019.