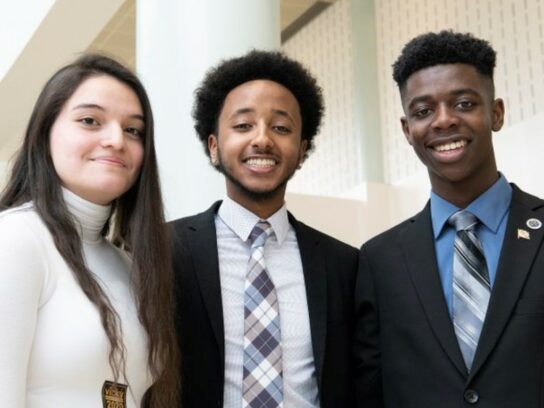 Two Montgomery County juniors are the final candidates campaigning to be the Student Member of the Board of Education.
The candidates are Victoria Kidder, a junior at Magruder High School, and Nick Asante, a junior at Richard Montgomery High School. A meeting was held yesterday at Watkins Mill High School where students voted on the matter. Kidder and Asante were chosen out of a total of 12 candidates nominated.
Congratulations to Vicky Kidder of Magruder High School and Nick Asante of Richard Montgomery High School! They are the final candidates for the next student member of the Board of Education! @mocoboe pic.twitter.com/G5zx9wutYB

— MCPS (@MCPS) February 12, 2020
Asante has advocated for many things throughout his years as a student. Some topics of his advocacy include increased school funding, more mental health awareness training for teachers and a fair distribution of resources to all schools, according to his campaign website.
"I imagine a Montgomery County Public School System that is regarded as the best educational system in our nation. A county that is the forefront of educational innovation in the United States. A county in which all of our students receive an education tailored to the modern-day world they live in. A county that supports and uplifts every student regardless of their background," Asante wrote in his vision statement.
Kidder has been active in student government since the eighth grade. Some of the main topics she is lobbying for include equal opportunity amongst schools, LGBTQ+ education and anti-gun violence legislation, according to her candidate profile.
"I want to provide more extensive mental health resources for students who truly need a person to lean on. This means more full-time school psychologists and mindfulness training for teachers… I would push for free SAT and ACT prep courses offered in schools so EVERY student has equal access to valuable test materials. Finally, MCPS is one of the largest polluters in the state of Maryland Gradual introduction of electric school buses, limited usage of single-use plastics in school lunches, and solar panels are the right way to go," Kidder wrote in her profile.
Every year a new SMOB is elected. The student can vote on matters including collective bargaining, school closings and capital and operating budgets. However, the student is not allowed to vote on personnel actions. The elected SMOB receives a $5,000 college scholarship, one honors-level social studies credit, and Student Service Learning hours, according to Montgomery County Public Schools.