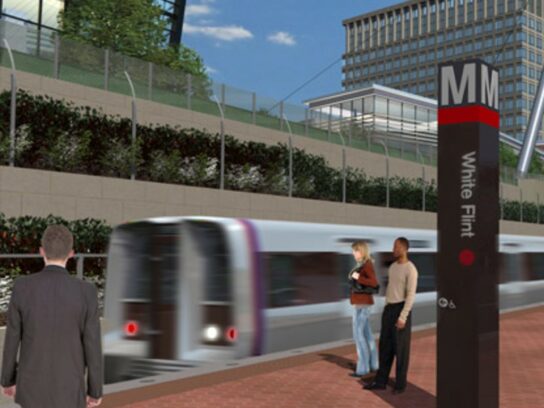 In Nov. 2018 the White Flint area was rejected as a second Amazon headquarters location. Two years later, Metro has potential ideas for development of its White Flint station in order to be better equipped for future opportunities.
The three concepts for the station property are: urban neighborhood, corporate campus and entertainment/innovation district, said Metro Real Estate and Station Planning Director Nina Albert at a council committee meeting Monday. She said the agency wants to be prepared to move quickly if another "Amazon-style" opportunity comes to Montgomery County. In 2018, White Flint was considered for a second Amazon headquarters site, but the company decided to divide the new location between Arlington, Virginia and New York City.
Albert said the county executive's office wants White Flint to be a life sciences campus. She said Maryland is the fourth most-active life sciences area in the country.
"The county executive's vision is that White Flint really be kind of a centerpiece in all of that," she said. "We know that there's a lot of industry activity along the 270 corridor and we want to bring that in closer and have a home and have a presence at White Flint, as well."
She said the county will take the lead in establishing the vision for the site and Metro will work on the development side.
Metro property development discussion comes following a council bill passed in October. On Oct. 27 the council approved legislation that offers private developers payment and exempts them from property taxes for 15 years if they build high-rise buildings on Metro property. The housing must be at least eight stories high and must include affordable housing. Metro projected that about 8,600 units could be built across all county Metro stations, including about 1,300 affordable units as required by the bill.
The council overrode a veto from County Executive Marc Elrich. Elrich said in an October memo that the funding for the bill could go toward efforts that include more affordable housing units. He said high rise buildings are expensive to rent and questioned why the council would focus on subsidizing mostly market-rate units instead of affordable housing.
Elrich said it was not clear why development on Metro property, in particular, needs to be incentivized. He said properties close to Metro stations would also offer similar benefits if developed, and people are willing to walk short distances. Those properties will probably ask for similar tax exemptions, the county executive noted.
When he introduced the bill in July along with councilmember Andrew Friedson, councilmember Hans Riemer said the purpose of the bill is to address an overall housing shortage.
"There is a regional housing shortage, and this is a solution that has regional potential," Riemer said at a press conference. "If you talk to WMATA, you will learn there is very little high-rise housing anywhere in the Metro system on top of stations."
Riemer said that most Metro stations are surrounded by surface parking lots and parking garages. Friedson said these stations are the gateway into their communities.
"And what do you see when you enter a gateway? Here you see a bunch of cars. How much better to see a lot of people? How much better to see activity? How much better to see the places where people live, where they recreate, where they socialize…?" Friedson said.
Metro categorized development for 10 county stations into three priority groups:
Priority 1:
Bethesda, Grosvenor-Strathmore, Twinbrook (west side), White Flint, White Flint (parcel H)
Priority 2:
Forest Glen, Rockville, Twinbrook (east side), Wheaton
Priority 3:
Glenmont, Shady Grove, Silver Spring