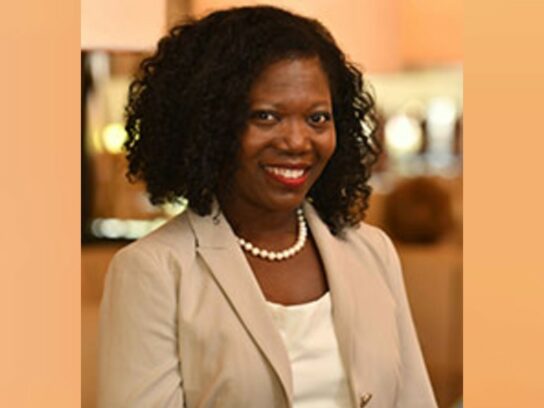 Dr. Monifa McKnight conditionally assumed the full role of superintendent of Montgomery County Public Schools Tuesday on her son's birthday. She is the first woman and second Black person to head the largest school district in the state. She received the unanimous support of the board of education as well as a standing ovation following the announcement.
Her appointment is contingent upon an employment agreement and the approval of the Maryland State Superintendent. If approved, McKnight will lead a district with 209 schools and almost 160,000 students.
McKnight joined MCPS in 2019 and rose from deputy superintendent  to acting/interim superintendent on March 11, 2021. She was named acting superintendent June 1 and interim superintendent on July 1.
She replaces Jack Smith, who announced his retirement so he could spend more time with his family, including a grandson with serious health issues.
McKnight's tenure has not been without controversy and included several missteps in her attempt to keep students and staff safe during the pandemic. Under her leadership, metrics to open and closed schools without explanation and the teacher's union issued a vote of no confidence.
McKnight lives in Bowie with her husband and son. She deals with her stress by working out with a group of friends.
McKnight came to MCPS from Howard County Public Schools where she was chief school management and instructional leadership officer.
Prior to working with Howard County schools, McKnight, who grew up in South Carolina, served as director for secondary leadership development programs for MCPS. She rose to the position from her role as principal of Ridgeview Middle School in Gaithersburg. She was named Maryland Principal of the Year in 2015. In 2016, McKnight was named Principal Ambassador Fellow by the U.S. Department of Education.
"She would agree she is a teacher and educator at heart," said School Board President Brenda Wolff.
McKnight also has been an adjunct instructor at Hood College and McDaniel College, teaching graduate-level courses in diverse educational philosophy, human development, and race and equity in school leadership.
Overall, she has been a classroom teacher, English Resource Teacher, Staff Development Teacher and Assistant Principal before stepping up to her roles in the superintendent's office.
She earned a bachelor of science degree in elementary education from South Carolina State University, a Master of Science in Educational Leadership from Bowie State University and a Doctorate of Education and Leadership and Policy from the University of Maryland, College Park.
Her dissertation, submitted in 2014, was titled, Examining the Self-Efficacy Beliefs and Leadership Practices of Middle School Principals with High Success Rates of Minority Students in Algebra.
On learning of her appointment, members of the Montgomery County Council issued a statement."Dr. McKnight has led the school system through public health and safety challenges by drawing on her extensive experience working in our schools. She joined MCPS in 2001 as a teacher and successfully moved up the ranks as an assistant principal, principal, deputy superintendent and interim superintendent. "
"She is a relentless advocate for educational equity and excellence and is a champion for advancing the interests and well-being of children. She also is committed to professional development and continuous improvement across the MCPS system," the councilmembers wrote.    
In an email to MyMCM, Montgomery County Education Association (MCEA) congratulated McKnight. "Dr. McKnight's appointment, as the first woman and second African American to ever lead our school district, is nothing short of a historic feat."
"While the problems within our school district are all-encompassing and will take a unified effort to address, our resolve and eagerness to remedy these issues remains within our collective power. We look forward to collaborating with Superintendent McKnight to ensure that the teaching profession is respected and that students, educators, support personnel, administrators, and our communities thrive."
Here is the letter McKnight wrote to the community about her new role.
I've cared for the students of this county for two decades now as a teacher, teacher leader, principal and central office administrator. This is my professional home, says Dr. Monifa McKnight at a media briefing following her appointment. Watch here: https://t.co/SRr7P2a3eI pic.twitter.com/Qhq0Ncf9Gd

— MCPS (@MCPS) February 8, 2022