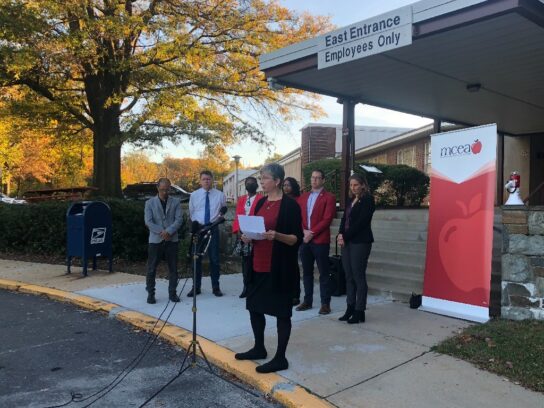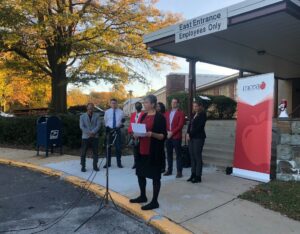 Montgomery County Public Schools (MCPS) teachers are overworked and exhausted, Montgomery County Education Association (MCEA) President Jennifer Martin said during a press conference outside the MCPS Board of Education building Tuesday.
MCPS still needs 161 teachers, 117 bus drivers, 11 lunch and recess assistants and 116 paraeducators in order to reach its full staffing complement, MyMCM reported. On Tuesday, Martin said half of requests for substitute coverage on any given day go unanswered, meaning teachers must take on additional classes and miss planning time. Days last long and into weekends and educators do not have time for their families, Martin said. Meanwhile, MCPS still introduces new initiatives and technology and doubles down on standardized testing, she said.
The union president said she is concerned about the potential for a "great resignation" at the end of the year if things do not change.
"MCPS employees are demoralized, exhausted and desperate for relief," Martin said.
Earlier Tuesday afternoon, the school board passed a resolution from Interim Superintendent Dr. Monifa McKnight to close schools on the day before Thanksgiving — Wednesday, Nov. 24. The resolution notes, "there is a shortage of substitute teachers this school year, resulting in teachers and paraeducators having to provide class coverage during their non-teaching periods."
Martin said the decision is a step in the right direction, but MCPS needs to do more. She detailed demands:
$55 per hour for covering classes/duties during planning time, to match Howard County Public Schools
Additional early release days for more planning time, to match Howard County Public Schools
A pandemic wage premium for substitutes, for recruitment/retainment
A moratorium on new initiatives without removing other responsibilities
Del. Lorig Charkoudian, Del. Eric Luedtke, Del. David Moon, Gaithersburg City Councilmember Laurie-Anne Sayles and Del. Vaughn Stewart participated in the press conference to support MCEA.
"We cannot keep asking them [teachers] to take care of all of society's challenges without giving them enough planning time, enough support, enough money and without getting substitutes into that classroom. Whatever it takes to get the substitutes," Charkoudian said.
Two weeks ago, hundreds of cars driven by MCEA members circled the Board of Education parking lot to rally for the hiring of additional teachers, bus drivers and other personnel.
Montgomery County Education Association President says MCPS employees are exhausted and overworked due to staffing shortages. @mymcmedia pic.twitter.com/qXymKOozDA

— Maryam Shahzad (@maryam_mcm) November 10, 2021