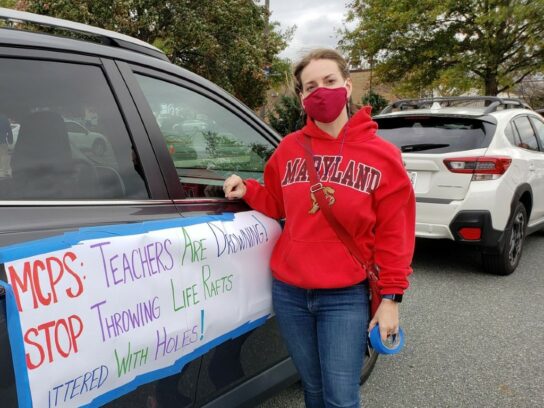 For more than a half hour, hundreds of cars driven by Montgomery County Education Association members circled the large Montgomery County Public Schools' (MCPS) Board of Education parking lot and drove out into the street. They were rallying to demand the hiring of additional teachers, bus drivers and other support personnel. They also urged MCPS to honor their contract which grants them periods to plan, grade and eat lunch or at least compensate them for the extra work.
Claudia Gargiulo, a seventh and eight grade Spanish teacher at Cabin John Middle School, called her workload "suffocating."
Gargiulo, who has taught at MCPS for 10 years, said she feels bad standing at the microwave for two minutes to warm up her lunch. Besides her normal five classes, she now is being asked to take on a sixth class. Add that to her morning duties and after school meetings on Mondays, and "our pace in working is frenetic," she said.
"There is no time for grading, going to the bathroom. It's very demanding."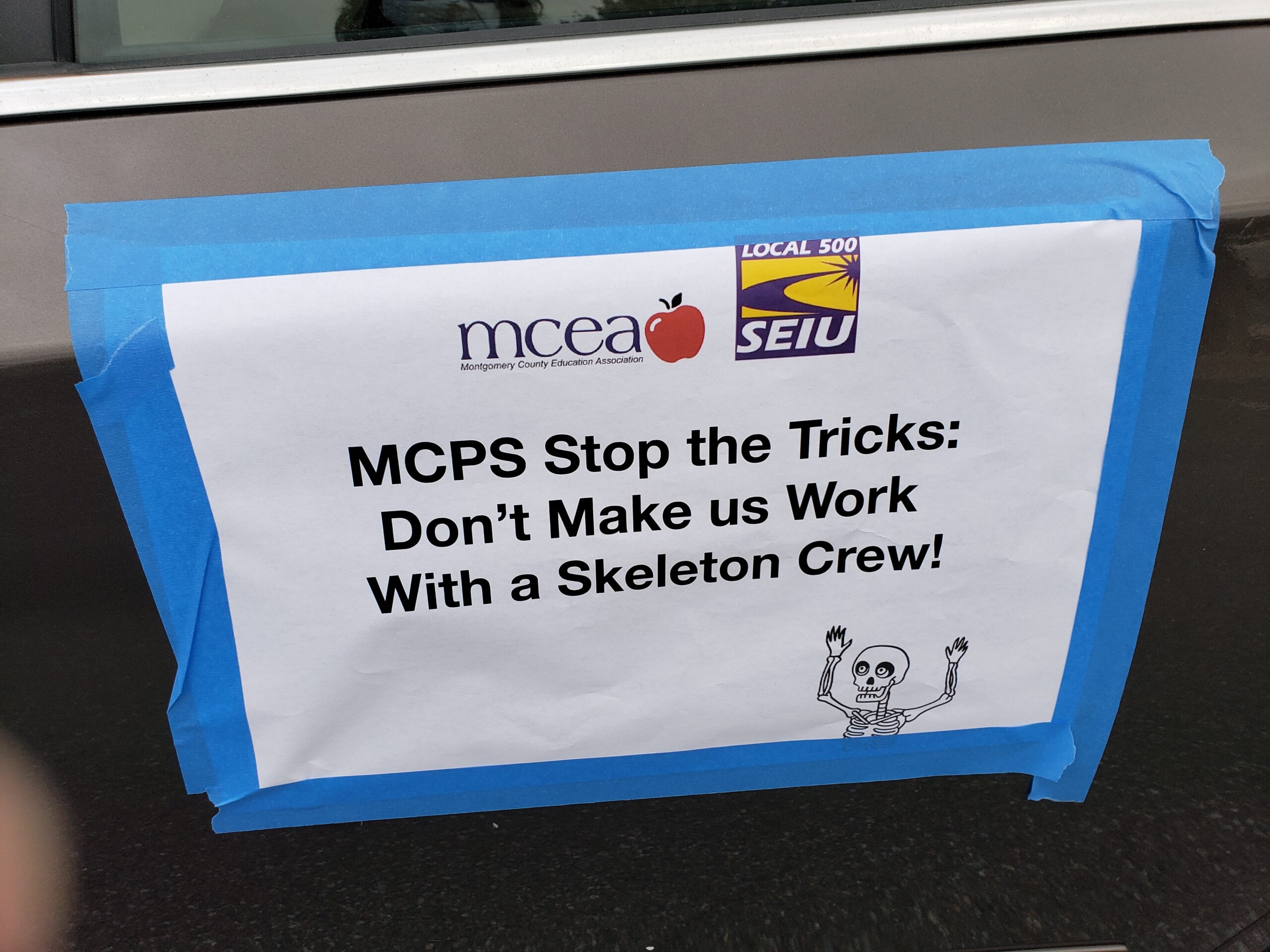 Stacy Tehrani, a second grade teacher at Viers Mill Elementary School in Silver Spring, agreed. "We are drowning," she said as she taped a protest sign on her car while waiting for the car rally to commence Tuesday afternoon. Her sign read, "MCPS: Teachers are drowning. Stop throwing life rafts littered with holes!"
Things are much worse this year. Compared to her previous years, including teaching virtually during the pandemic, "This is a whole other ballgame," she said.
"We are short staffed," she said. When there aren't enough substitutes, that creates a trickle down affect, Tehrani said. Other teachers have to help out and take on so many roles, she said. She loses her time to plan her lessons and deals with students who need her as she must cover for other teachers and staff.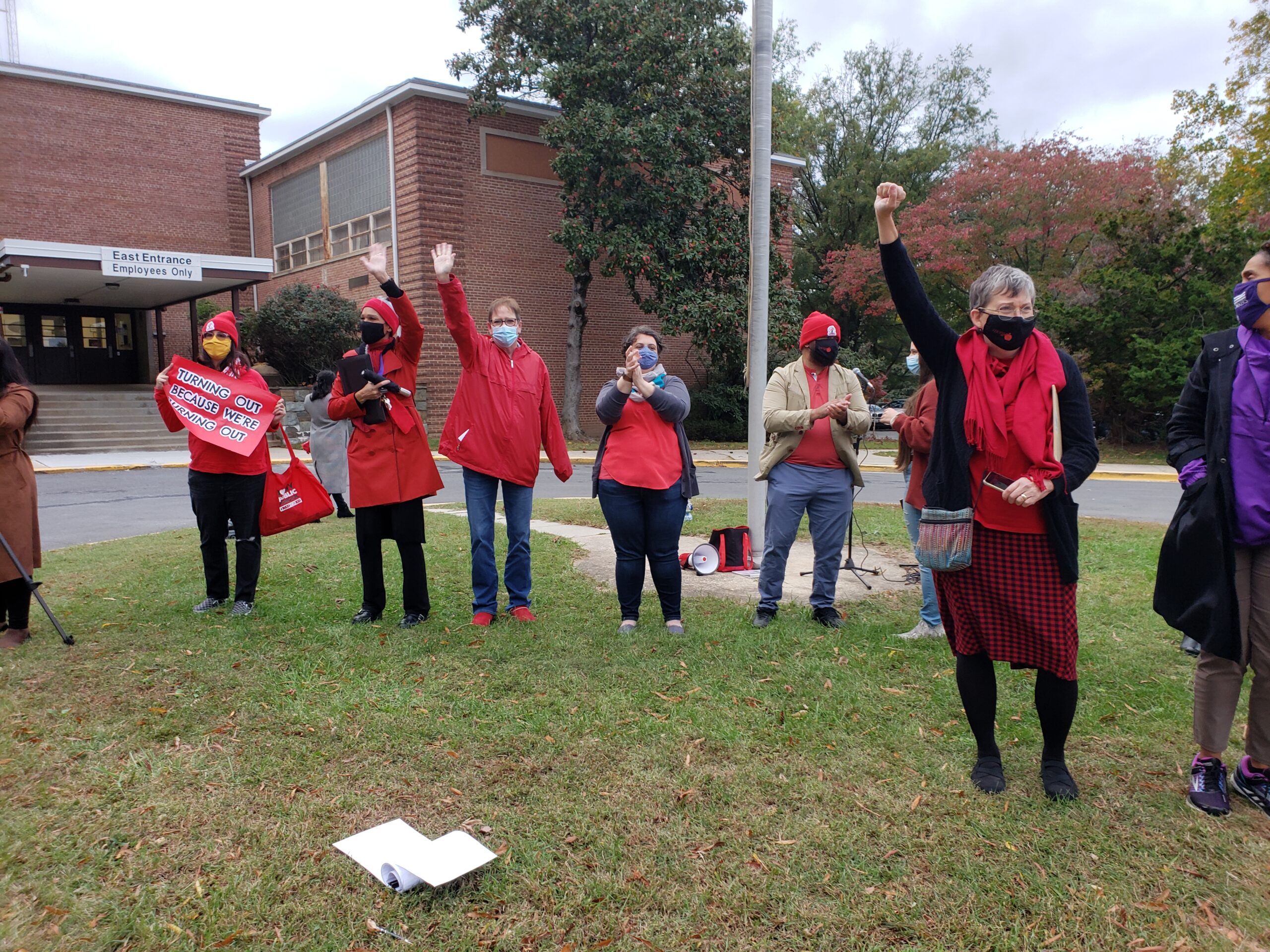 Meanwhile, she noted, she is supposed to be implementing a new curriculum that she is having trouble finding the time to learn.
Elementary school teachers also are responsible for bus and lunch duty besides covering for others in their understaffed schools. "How are they still showing up everyday?" wondered Colleen Roberts, a biology teacher at Walt Whitman High School in Bethesda.
A few teachers talked about being spread too thin but wouldn't give their names or the names of the school where they work for fear of retribution by their principals. Some principals are stepping up and covering classes and lunches when they can and are understanding of the situation, but others are not, said one elementary school teacher.
Hundreds of MCPS employees stage drive by rally in front of BOE to protest understaffing, frenetic working conditions @mymcmedia @mcps @mceanea pic.twitter.com/9fnvumuvcZ

— suzanne pollak (@SuzannePollak) October 26, 2021
"We stand in solidarity with our MCEA brothers and sisters. Overworked and overtired staff can't adequately educate our students!" – Pia Morrison, President of @SEIULocal500

— Montgomery County Education Association (@mceanea) October 26, 2021
"Feel that chilly gust of wind? That's about as warm of a response as we've gotten back from @MCPS." – MCEA President Jennifer Martin

— Montgomery County Education Association (@mceanea) October 26, 2021