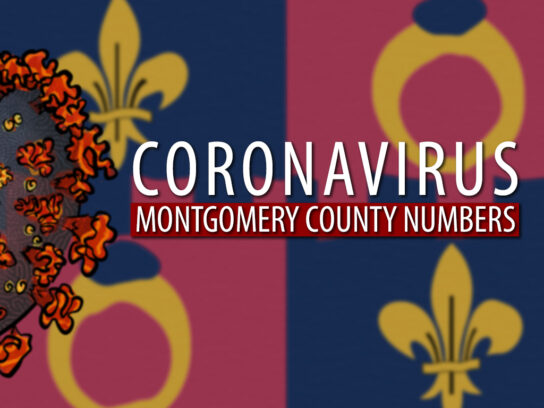 County Executive Marc Elrich announced Thursday the first phase of reopening would start Monday, June 1 at 6 a.m. Public health officials have tracked key indicators regarding the COVID-19 outbreak in the county to help determine when and how to relax "restrictions and move toward reopening businesses and public amenities in the county."
The county developed the COVID-19 Dashboard to track these key indicators. The information is updated daily by 2 p.m.
The data tracked by the county include the number of cases, deaths, hospitalizations, emergency room visits, and ICU hospitalizations. Also, the county tracks the utilization rate of acute care beds, intensive care beds, and ventilators. The final two measurements include the percentage of positive tests and the capacity to test five percent of residents monthly.
The data released Friday is generally positive.
The target for two indicators — 14 days of ICU bed utilization less than 80% and 14 days of ventilator use less than 70% — has been met.
Health officials set a goal that the utilization rate for acute care beds in the county is less than 70%. So far, the rate has only been under 70% one day of the last 14. Today the rate is reported at 73%, Thursday it was 74%.
Montgomery County COVID-19 Dashboard last updated May 29 (click on photo to enlarge):
Montgomery County COVID-19 Dashboard as of May 28 (click on photo to enlarge):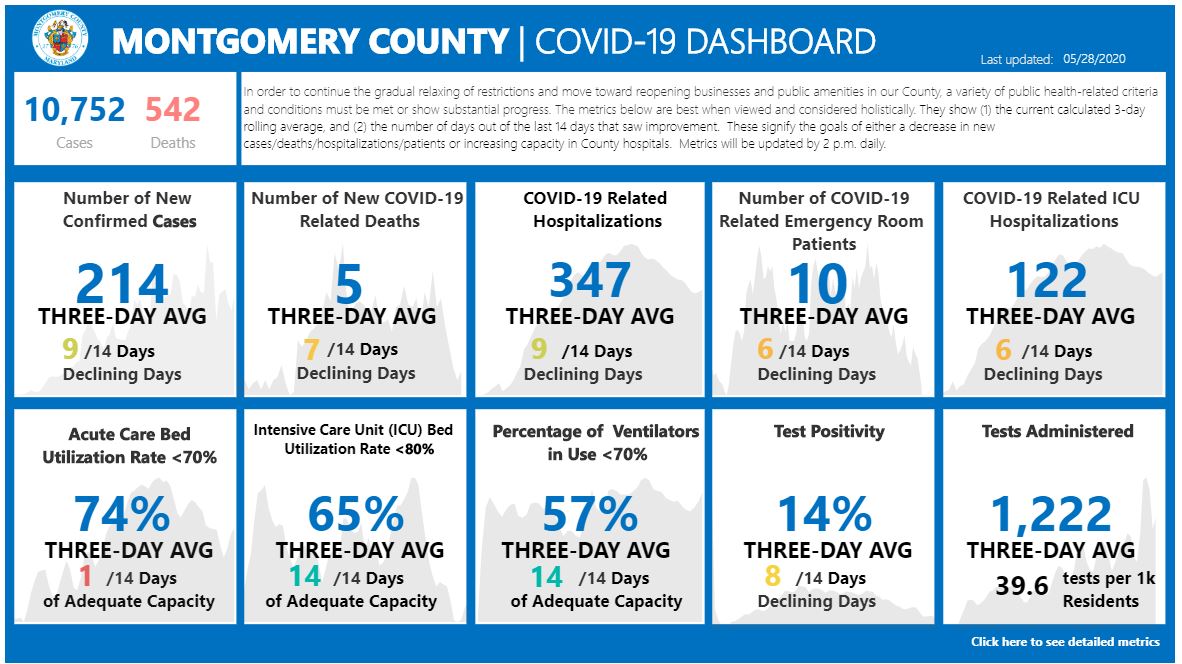 The data posted Friday were:
Number of new confirmed positive cases each day: 248 (three-day average); nine declining days out of the last 14
Number of COVID-19 new deaths each day: 8 (three-day average); seven declining days
COVID-19 related hospitalizations: 344 (three-day average); nine declining days
Number of COVID-19 related emergency room patients: 18 (three-day average); 6 declining days
COVID-19 related intensive care unit hospitalizations: 124 (three-day average); 6 declining days
Acute care bed utilization rate: 73% (three-day average); the county benchmark of less than 70% has been met one of the last 14 days
Intensive care bed utilization rate: 67% (three-day average); the county benchmark of less than 80% has been met for 14 straight days
Percentage of ventilators in use: 58% (three-day average); the county benchmark of less than 70% has been met for 14 straights days
Percentage of positive tests: 15% (three-day average); eight declining days
Number of tests administered: 1,355 (three-day average); the county has set a goal to have the capacity to test 5% of residents on a monthly basis