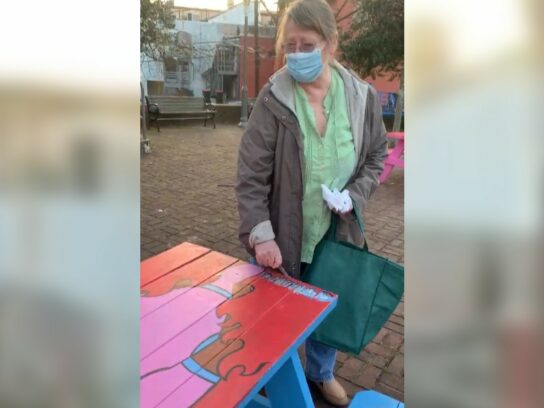 Last Thursday, two videos spread on Twitter that appear to show a woman defacing artwork featuring a Black woman off of a table at Takoma Urban Park.
The level of entitlement is just beyond me????? I'm fucking heated pic.twitter.com/qlVvxRwgYs

— STONA LISA (@TRAPBOB) December 10, 2020
According to Montgomery County's park police, "A public art installation commissioned by a local business association was destroyed." Tenbeete Solomon, a Washington, D.C. artist who goes by Trap Bob, is behind the piece. It shows a Black woman with the word "Justice" above her. Takoma Park Mayor Kate Stewart said Main Street Takoma, a revitalization initiative under the Old Takoma Business Association, commissioned the work.
Solomon posted the videos on Twitter, which she said her friend took. In the first video, a woman can be seen and heard saying, "Not in our table." The man taking the video explains that Takoma Park paid the artist to paint the table.
"I don't think so," the woman responds. The man tries to explain again, to no avail.
"[Unclear] not this kind of things on the table. The table, you should put food," the woman said. In a second video posted by Solomon, the woman again said she does not believe the artist was paid to paint the table. She would not say her name or whether she was a Takoma Park resident.
The woman said the table is "not yours, it's ours." Another woman can be heard also explaining that Takoma Park paid for the art and that it's something the community wants.
Solomon's friend noted that the woman specifically scraped off the Black woman's face, the word "Justice" and the artist's name. The woman again says that tables are for food, not art.
Solomon captioned the first video: "I'm livid. An artist friend of mine confronted + recorded this woman literally defacing my murals because she "doesn't like them" and doesn't believe I was hired to create them. How racist do you have to be to scrape black faces + names off of someone's art? Disgusting."
Park police said the woman was identified and detectives met with her. Police are not identifying her to the public at this time because no formal charges have been given, Patrol Branch Assistant Chief Capt. Jeffrey Coe told MyMCM in an email. She could face charges, but no formal decisions have been made yet.
"We expect to speak to all stake holders involved and a combination of community mediation, restitution, and or charges are all considerations but formal determination on disposition has not been made at this point," Coe said.
Mayor Stewart responded to the incident Thursday.
"What happened today is appalling. We will work with [Main Street Takoma] who commissioned this art to make repairs. And it cannot stop there. The defacement of this art starkly illustrates the need to fight anti-Black racism," Stewart tweeted.
What happened today is appalling. We will work with @MainStTakoma who commissioned this art to make repairs. And it cannot stop there. The defacement of this art starkly illustrates the need to fight anti-Black racism. https://t.co/2vohqySBx8

— Kate Stewart (she/her) (@KateforTakoma) December 11, 2020