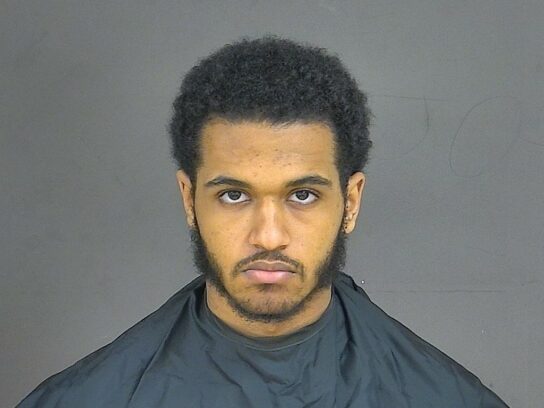 A Virginia teenager, who was charged in February with the double homicide of two Northwest High School graduates, has been sentenced to four consecutive life terms plus 18 years.
Mohamed Aly, who was 18 at the time, was arrested Feb. 13 and charged with killing Ayanna Munne Maertens Griffin, 18, and Ntombo Joel Bianda, 21, according to Virginia State Police (VSP). Maertens Griffin and Bianda were dating, according to a statement from the Halifax County Commonwealth's Attorney's office. Fox 5 DC reported they met as students at Northwest High School in Germantown and were living in Alexandria. Aly was an Alexandria resident.
Aly was a student at T.C. Williams High School, as was confirmed by Principal Peter Balas in a message on the school's website. He was charged with two counts of first-degree murder and two counts of use of a firearm in the commission of a felony. On Feb. 8 at 2:51 a.m., VSP responded to a single-vehicle crash in Halifax County near the North Carolina border, according to a statement from police. The bodies of Maertens Griffin and Bianda were found near Bianda's car, which had run off the road and into a median. The couple was found with single gunshot wounds to their heads, said the statement from the Halifax County Commonwealth's Attorney's office shared by WFXR.
I am deeply saddened to learn of the passing of Joel Bianda (Class of 2017) and Ayanna Maertens-Griffin (Class of 2019) this weekend. Please keep their families and friends in your thoughts during this incredibly difficult time. pic.twitter.com/ZHGdTjObUO

— Jimmy D'Andrea (@DandreaJimmy) February 10, 2020
Last week, Aly was sentenced to four consecutive life terms for the murders and carjacking, plus 18 years for firearms offenses, according to the attorney's office. The statement says Bianda was driving Aly from Alexandria to Danville, and Maertens Griffin went with them. Aly brought a firearm and later told police he was having "bad thoughts and good thoughts."
"He was having doubts about college and about his home life," the statement reads. About an hour before getting to Danville, Aly told Bianda to pull over and as he was doing so, Aly shot him. Officials quoted Aly: "I pointed the gun at his head, without thinking, without saying anything, I pulled the trigger." They say Aly then shot Maertens Griffin.
Aly was able to park the car while it was moving, the attorney's office said, and left the bodies in a grassy highway median before driving away to Danville. He eventually returned home to Alexandria and went back to his life, officials said.
"There, he returned to school, posted on social media, and generally appeared to resume normal life." He was arrested five days later on Feb. 13.
The Halifax County Commonwealth's Attorney's office closed its statement wondering why Aly committed the murders.
"One of the most painful aspects of this case is that the family may never know Aly's motive to murder their loved ones. We are all left asking, why? Although I am pleased that we had the chance to bring the family closure on this chapter in their lives, we may never have an answer to that question."