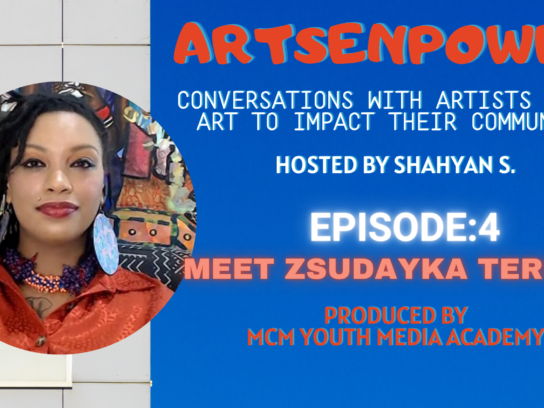 In this fourth episode of ArtsEnPower, youth host Shahyan S. interviews visual artist and curator Zsudayka Terrell. Terrell shares her journey of moving from Denver, Colorado to the Washington DC metropolitan area and how she manages her family's fine art business as a visual artist and curator.
ArtsEnPower is a youth-produced program series that focuses on the ways that creative people use their artistry to positively impact their community. ArtsEnPower is a project through the MCM Youth Media Academy. The MCM Youth Media Academy is an out-of-school time program that offers media instruction and leadership training to youth aged 13-17 years-old. Taught by Montgomery Community Media professionals, using an Advancing Youth Development (AYD) framework, MCM Youth Media Academy is designed to engage youth in quality media instruction tailored to their age group.
This production was recorded and produced virtually as MCM studios are closed to the public due to COVID-19. To learn more about MCM Youth Media Academy, visit
https://www.mymcmedia.org/youth
​
Music provided by Manhattan Production Music.