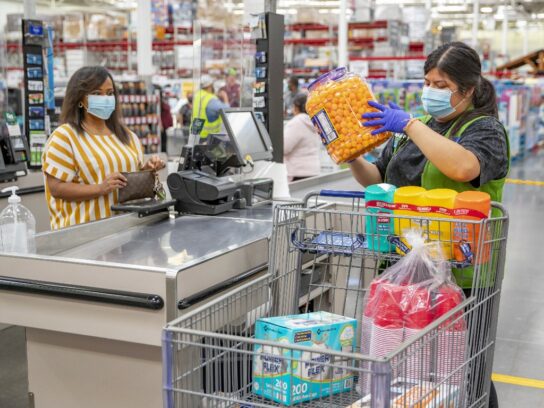 Walmart, Best Buy, and Starbucks have announced that customers will be required to wear facemasks in stores.
Starbucks and Best Buy are enforcing their masks policies starting July 15 and Walmart's policy will go into effect on Monday, July 20. However, Montgomery County residents have been required to wear masks inside of all establishments since April.
To keep you and our employees safe, Best Buy will require customers to wear face coverings in our stores starting July 15. https://t.co/efRDgnnGxH pic.twitter.com/J34sFOjuH3

— Best Buy News (@BBYNews) July 14, 2020
In a statement on Best Buy's blog, the company states that they will provide a face covering to customers who do not have one and if customers have concerns about wearing a mask then they will be able to shop online.
Starbucks announced on its news website that if local government mandates for masks are not in place for some locations, customers who do not wear a mask can order through drive-thrus, curbside pickup, or delivery.
Our priority is the health and well-being of our partners (employees) and customers. Starting July 15, U.S. company-owned Starbucks locations will require customers to wear facial coverings while visiting the café. Learn more: https://t.co/ldDfwTRe3n pic.twitter.com/1m0cMKChoV

— Starbucks News (@StarbucksNews) July 9, 2020
According to a Walmart press release, Walmart and Sam's Club are implementing this mask policy to increase consistency, as some stores are in areas where there is not a government mandate on face coverings. Additionally, Walmart has created a "health ambassador" role. The ambassadors will receive special training and wear black polo shirts. This employee will be stationed near the entrance to the store to enforce the mask policy.
To best serve our communities and protect the health and safety of our shoppers and associates, face coverings will be required in all stores beginning Monday, July 20. For more on our decision and policy, please see here: https://t.co/r2ijRqslNP pic.twitter.com/pKYQCzk48l

— Walmart (@Walmart) July 15, 2020