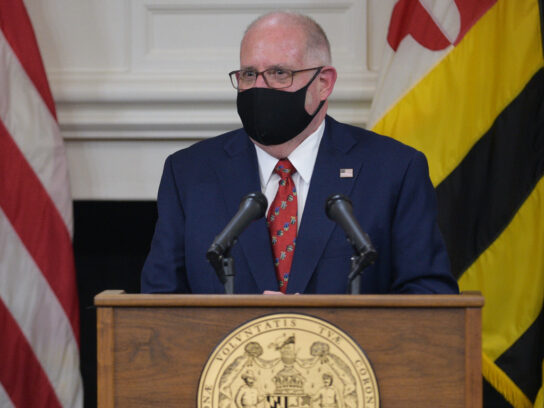 Gov. Larry Hogan will hold a media briefing Thursday at 1 p.m. where he is expected to discuss Wednesday's violence at the U.S. Capitol and the resources Maryland provided to assist the D.C. Police and the U.S. Capitol Police. Maryland National Guard General Timothy Gowen and Maryland State Police Superintendent Jerry Jones will join Hogan at the briefing.
Watch the briefing live below:
Hogan's address will be streamed live Thursday at 1 p.m. on Twitter, Facebook, and YouTube.
I will hold a press conference today at 1 p.m. with Major General Timothy Gowen, Adjutant General of the @MDNG, and Colonel Jerry Jones, Superintendent of the @MDSP.

Watch live here on Twitter, Facebook, or YouTube: https://t.co/OZuBjuoxnP pic.twitter.com/TP9jGF32z3

— Governor Larry Hogan (@GovLarryHogan) January 7, 2021
Related Posts:
Gov. Hogan Calls for Trump's Resignation, Removal from Office
Hogan Extends National Guard's D.C. Mission to Ensure Peaceful Transition
Hogan: 'All Americans Should Be Outraged By this Attack on Our Nation's Capitol'