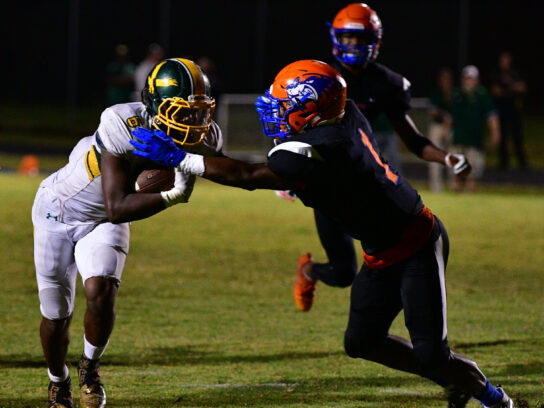 Thirty years ago Watkins Mill High School opened with students reassigned from Gaithersburg  and Seneca Valley High Schools.  The rivalry that was created was a natural outgrowth of a new school being opened.  Seneca Valley in the 1970s, 80s and 90s was a dominant football power, not only in Montgomery County but in Maryland as well.  The past of the Screamin' Eagles, of a bygone era, was one that saw 12 state championships under legendary coaches Thomas and Changuris.  Many Montgomery County schools wished they had one championship, none have ever approached the 12 that Seneca Valley has.
Friday night's game at Watkins Mill was an indication of how much this rivalry has shifted in favor of the Wolverines.  Last season was the first time in Watkins Mill school history that the Wolverines ever defeated the Screamin' Eagles.  This year under Coach Mike Brown (WM '97) the dominance over Seneca Valley would continue.  The first kickoff to #1 D. Rush resulted in an 84 touchdown for The Mill.  Coach Brown had the Wolverines ready to play and the Mill defense kept the Screamin' Eagles from scoring until late in the fourth quarter.  The Wolverines are moving in the right direction, The Mill is beginning to believe and prove this is a new day and a team that will buckle up and grind you down.
Next up for the Wolverines will be the Blair Blazers, another team regaining pride in its football team and program.  If The Mill plays as hard as they did this past Friday night they will continue to send a message.  Bring your best game because you will get ours every week.
Congratulations to The Mill players and coach Brown and his staff, you made this former Watkins Mill teacher proud.
Pictures to follow by Daryl Schultz (Watkins Mill teacher 1989-2008)