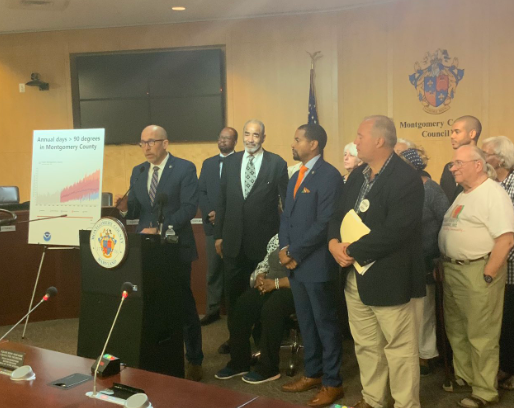 Many Montgomery County residents who rent older and more affordable housing units do not have access to consistent air conditioning according to officials.
Well, County Councilmembers plan to do something about it through a Bill which will require landlords to provide and maintain air conditioning service for rental housing throughout the county.
Councilmember Tom Hucker who chairs the Montgomery County Council's Transportation and Environment Committee held a press conference for Bill 24-19, titled Landlord-Tenant Relations-Obligations of Landlord Air Conditioning. Councilmembers Will Jawando and Gabe Albornoz and President Nancy Navarro are cosponsors of the bill.
"Air conditioning is more than a matter of comfort for many people," Councilmember Hucker said. "Especially for the elderly and those with chronic health conditions, it's a matter of life or death. And climate change is only exacerbating the problem, as just six weeks ago we lived through the hottest month ever recorded on the planet."
Many residents of the Charter House in Silver Spring attended a press conference for the bill on Tuesday in Rockville.
Officials say this summer, at least two residents of the Charter House were taken to a hospital when the air conditioning failed during heat waves.
If a landlord does not comply with the new law, tenants may file a complaint with the Department of Housing and Community Affairs and the landlord may face a fine of $500.
Officials sat this bill will be presented during a work session on September 23, and from there it will go before the County Council.