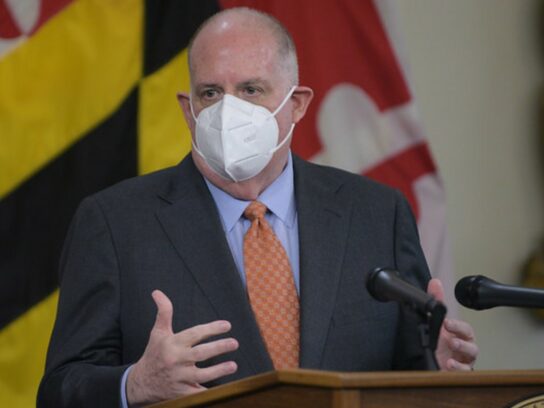 "The basic problem is pretty simple: we need more damn vaccines," Maryland Gov. Larry Hogan said at a press conference Tuesday.
He said every state, county and city in the U.S. is facing the issue of COVID-19 vaccine demand outweighing supply.
"And we've been told by the federal government that this problem will continue to exist for the foreseeable future," Hogan said. He reiterated that the state has no power in purchasing vaccines.
"If I needed to drain the entire rainy day fund to buy enough vaccines for every eligible Marylander, I would do so today. Unfortunately, we have no control whatsoever over this supply problem. Only the federal government can buy the vaccines, and only the federal government can send us the vaccines." What the state can and is doing, Hogan said, is scaling up infrastructure to be able to administer as many doses possible, as quickly as possible.
Currently, 2 million Marylanders are eligible to receive the coronavirus vaccine, Hogan said, however the state only receives about 11,000 doses daily. He said he will meet with President Joe Biden and a small group of governors and mayors in the Oval Office on Friday.
"I think that the President mainly wants to talk about the RELIEF Act, which we're obviously very interested in. But, we've been pressing all these other issues on vaccines with their entire administration and I hope I get the chance to talk about those issues as well," Hogan said. He said that on Tuesday, he urged Biden administration officials to consider using the Defense Production Act to involve additional pharmaceutical companies in manufacturing vaccines.
Hogan: "The basic problem is pretty simple: we need more damn vaccines."

"If I needed to drain the entire rainy day fund to buy enough vaccines for every eligible MDer, I would do so today." He says unfortunately, only the federal government can buy/send vaccines. @mymcmedia

— Maryam Shahzad (@maryam_mcm) February 11, 2021
The governor said COVID-19 metrics are improving; he said coronavirus hospitalizations have declined each week for the last four weeks and have dropped by 34% to 1,272, the lowest number of hospitalizations since Nov. 22, 2020. Hogan announced that the state health department will issue orders to allow limited visitation at hospitals and nursing homes. Hospitals will set their own CDC-compliant policies, and nursing home indoor visitation can resume as early as March 1, with proper testing protocol in place and as long as facilities have no active cases.
Hogan also announced that between now and the end of June, the state health and education departments will offer up to 1 million COVID-19 tests for public and non-public schools that are open or plan to reopen for in-person learning. The state will provide rapid antigen tests and full diagnostic testing, he said. The program is voluntary for schools and tests will be allocated based on the anticipated number of students and staff returning to school buildings. On Tuesday, the Montgomery County Public Schools (MCPS) school board unanimously agreed to return students to the classroom beginning with small groups of the most vulnerable students on March 1 and continuing through April 26 at the latest for seventh and 10th graders.