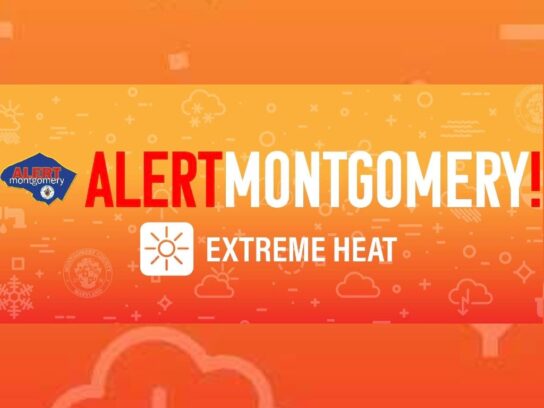 Forecasts for the weekend of May 20-22 are expected to reach as high as 99 degrees, and county officials have declared a heat warning for residents as a result.
A Hyperthermia Alert has been issued for the county in an effort to prevent heat illness. This type of warning is issued when the heat index is expected to reach 95 degrees or higher. These high temps create conditions where heat stroke or heat exhaustion become likely.
County officials warn that although a Heat Emergency Alert has not yet been issued, residents should be wary of the rising temperatures. An extreme heat emergency would be when the heat index is reaching at least 105 degrees or over for a period of two days or longer.
Residents are encouraged to stay hydrated, even if they don't feel thirsty. Wear sunscreen, sunglasses, and other shade items. Stay indoors when possible, or avoid overexposure while outside.
The Montgomery County Office of Emergency Management also reminds residents to "look before you lock," as many heat-related car deaths or injuries are preventable. Never leave children or pets in an unattended car during a heat wave, as the internal temperature of the vehicle far exceeds the outside temperature.
Officials also ask residents to check on elderly friends, relatives, and neighbors who may be isolated.
Residents concerned about the well-being of homeless individuals can contact the county's outreach partners by calling the 24-hour line at 240-907-2688.
Signs of heat exposure include:
Heat cramps: painful muscle spasms, typically in the abdomen or legs
Heat exhaustion: clammy or flushed skin, dizziness, nausea, headache, or weakness
Heat stroke: red, hot, dry skin, weak pulse, rapid breathing, changes in consciousness
Residents should dial 9-1-1 if someone is experiencing heat stroke.
Furthermore, The Director of the Montgomery County Police Animal Services Division, Thomas Koenig, will be enforcing Executive Regulation 17-17, Anti-Cruelty Conditions for Dogs, Section D. This regulation stipulates owners are not permitted to leave pets unattended outdoors, and must have access to safe drinking water and shade while outside. Negligence will result in a $500 fine and the possible removal of the animals.
Acting Planning Chief, Tina Laboy, had the opportunity to speak to @wusa9 about heat safety for the upcoming heat this weekend.

➡️Stay hydrated, limit strenuous outdoor activity, & *never* leave kids, pets, & vulnerable adults alone in parked cars. Tips: https://t.co/HgwpENhOqm pic.twitter.com/bIYSoyxuWw

— MC Emergency Mgmt (@ReadyMontgomery) May 20, 2022