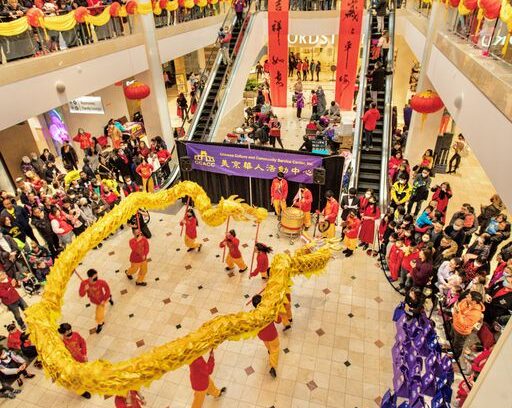 Westfield Montgomery mall kicked off the Lunar New Year Sunday with a festive celebration full of modern and time-honored traditions.
Hosted in partnership with the Chinese Culture and Community Service Center (CCACC), the center welcomed nearly 1,500 patrons to take part in a series of well-designed and prepared cultural performances, including traditional dragon and lion dances, artistic demonstrations, and martial arts.
Along with these performances, the center has been adorned with hundreds of red lanterns which culturally represent good fortune and occasions of joy and harmony.
Among the special guests were Montgomery County Executive Marc Elrich, Montgomery County Council President Evan Glass, Montgomery County Councilmembers Will Jawando, Gabe Albornoz, Laurie-Ann Sayles, Kristin Mink, Kate Stewart, Marilyn Balcome, Natali Fani-Gonzalez and Dawn Luedtke. Other attendees included City of Gaithersburg Mayor Jud Ashman, Gaithersburg Councilmembers Neil Harris and Robert Wu; Senator Clarence Lam and CCACC Executive Director Chih-Hsiang Li.
"Westfield Montgomery, in partnership with CCACC, has created two exhilarating celebrations to commemorate the year of the rabbit," said Zeina Davis, Director of Marketing for Westfield Montgomery. "Collaborating with such important diverse local partners is truly what community means to us – and we hope to bring a sense of this time-honored tradition to the center and all of our customers."
All performances and activities return for a final performance next Sunday, Jan. 29 from 2:00–4:00 p.m. in the Nordstrom wing of Westfield Montgomery on the lower level and is open to adults and children. No rsvp is required.
(Photos courtesy Westfield Montgomery)