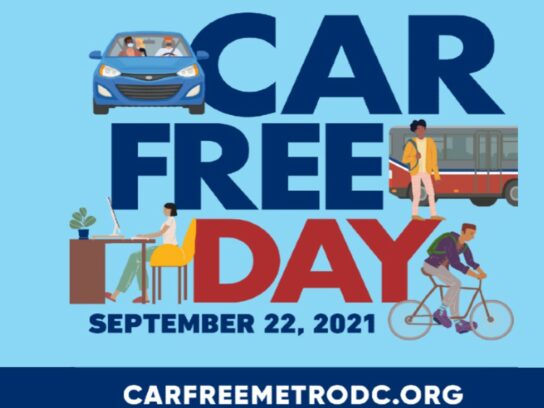 On Wednesday, Sept. 22, the DMV area will be celebrating Car Free Day in an effort to promote greener modes of transportation and raise awareness about the impact of greenhouse gasses on the environment.
This international event encourages people to consider walking, biking or using carpools to get around town for one day. Over 2,000 cities across 46 countries currently promote this event.
Be among thousands of Metro DC residents and commuters who will explore sustainable and fuel-free transit options on Wednesday, September 22, for Car Free Day. Take the free pledge to go car free or car-lite at https://t.co/7ZFhiRxfQ6. #CarFreeDay2021 #CarFreeMetroDC pic.twitter.com/Q5KstX6e5i

— Commuter Connections (@CarFreeMetroDC) September 17, 2021
Residents can sign the Car-free pledge and enter to win various raffles prizes including gift certificates, electronics and t-shirts.
The Montgomery County Department of Transportation will also be hosting giveaways and giving out pledge cards Wednesday morning. MCDOT Staff will be at Bethesda Metro, Friendship Heights Wisconsin Place, Germantown Transit Center and Silver Spring Transit Center from 6:30-8:30 a.m. Then from 9:00-11:00 a.m. staff will at the Westfield Montgomery Transit Center.
@MCDOTNow 's Commuter Services will be at the following locations on #CarFreeDay2021
– Silver Spring Transit Center 6:30am-8:30am
– Germantown Transit Center 6:30am-8:30am
– Westfield Transit Center 9:00am-11:00am
– Bethesda Metro 6:30am-8:30am
– F.H. Wisconsin Place6:30am-8:30am pic.twitter.com/E44mokb04g

— mococommuter (@mococommuter) September 20, 2021
MCDOT Commuter Services is also hosting a Swag Bag contest through Sept 26. Residents can enter by snapping a photo along any bike path or trail in the county and posting it on social media with the hashtag #MoCoBikes.
Car Free Day comes at the heels of the European Union's Copernicus Atmosphere Monitoring Service's announcement that the ozone layer in the Southern hemisphere is rapidly increasing in size faster than expected. The EU's monitoring service said the hole is already larger than Antarctica.