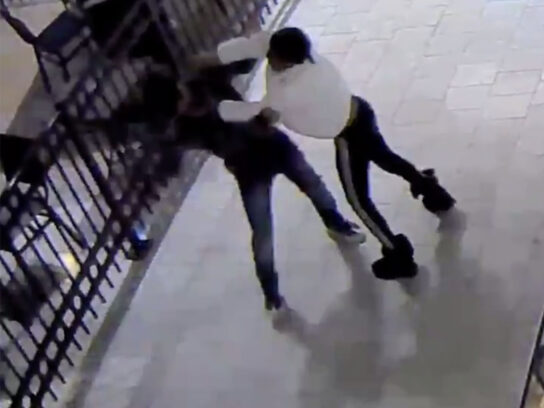 Montgomery County Police Department is asking for the public's help in identifying two women who assaulted a man at Westfield Wheaton Mall on Dec. 2.
Officers in the Wheaton district were dispatched to the scene around 8:30 p.m., police say. Investigators have determined that two women went to the Smart Fix shop in the mall to get a cell phone screen repaired.
Police say when a male employee finished repairing the phone, one of the women asked to see the phone so she could make sure it was working. When the employee gave the women the phone, police say both women fled from the business and didn't pay.
The employee then ran after the two women and police say he then "became involved in an altercation with them." Police say one of the two women swung a knife at the employee and told him to "back away."
According to police, the women were last seen running from the mall. Police released a surveillance video showing some of the confrontation between the employee and the women.
Anyone who recognizes the women in the video is urged to contact the Wheaton District Investigative Section at 240-773-5530. People can also anonymously contact the Crime Solvers of Montgomery County at 1-866-411-8477 to be eligible for a cash reward of up to $10,000.