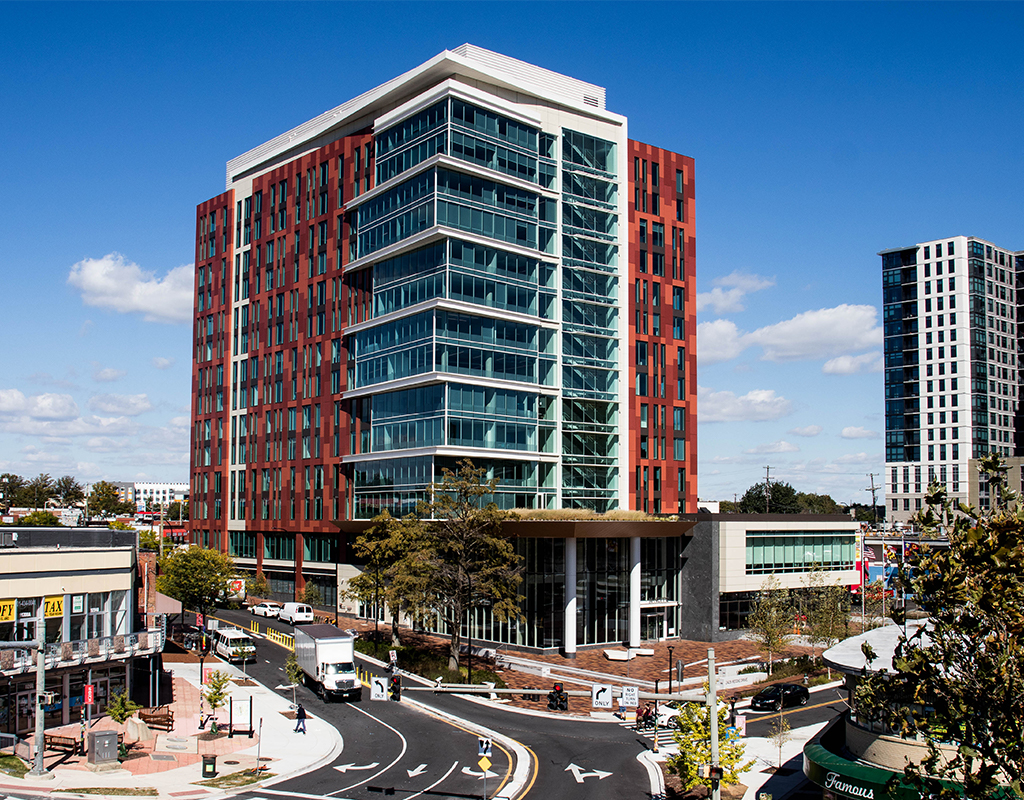 Wheaton Revitalization Project Completed On Time; Building Will House Over 900 Employees
The Wheaton Revitalization Project has been completed on time and within budget after three years of construction. The project provides a government office building, below-ground parking garage, and town square as part of the Revitalization Strategy for downtown Wheaton.
The new office building, located at 2425 Reedie Drive in Wheaton, has been under development since June 2017.  The 308,000 square-foot, 14-story tall building is home to its main tenant, the Maryland National Capital Park and Planning Commission (M-NCPPC). The new headquarters will make M-NCPPC's operations more efficient and improve its ability to work with other co-located agencies.
The project also includes ground-floor retail and plaza spaces for visitors and residents and a four-level, below-ground public parking garage. The completion of the project also introduces a new town square across from the building that will host public events.
The Montgomery County Department of Transportation (MCDOT) oversaw the construction of a project that was built inside the Wheaton Triangle business district.
"The Wheaton Redevelopment was a complex undertaking that required significant efforts by many, and we are happy that MCDOT successfully led this project to provide an active and vibrant new center for people who live and work in Wheaton," said MCDOT Director Chris Conklin.
In addition to M-NCPPC, six other Montgomery County agencies will be located at the new headquarters, which will house more than 900 government employees. These agencies are:
Department of Environmental Protection
Department of Health and Human Services
Department of Permitting Services
Department of Recreation
Office of Community Use of Public Facilities
Mid-County Regional Services Office
Additionally, the Department of Recreation officially announced its relocation to the new office building.
Montgomery County Recreation Director Robin Riley is excited about the new transition to the center of the Wheaton Triangle Business District. "We are thrilled to be a part of the Wheaton Revitalization Project and look forward to making downtown Wheaton our new home."
The new facility also brings the arrival of a new customer service center, located on the second floor. The service center will remain closed to walk-in customers until further notice due to COVID-19. Online customer service will stay open, however. Montgomery County Recreation's customer service center will continue to be fully staffed during the transition in order to minimize any disruption to services.
More information about the project is available at here.
---
Video is courtesy of County Cable Montgomery, MyMCMedia's PEG Partner. 
Previous Post: