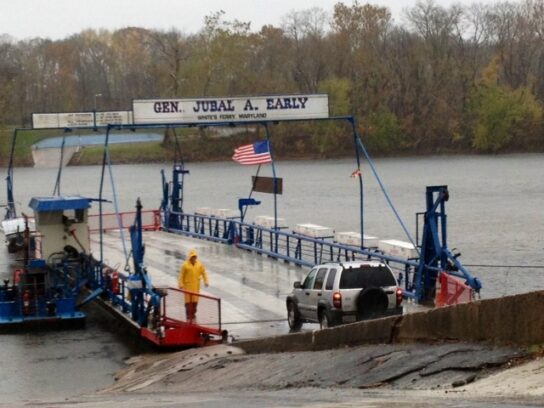 White's Ferry, which has been taking commuters across the Potomac River between Montgomery and Loudon counties since the late 1780s, ended its run last week following a court ruling.
On Nov. 23, the Loudoun, Va. County Circuit Court issued a decision between the ferry operator and private land owner in Virginia that declared there was no legally established public or private landing area on the Rockland Farm's property, where the ferry has been operating all these years. The two sides were unsuccessful in their attempt to negotiate an agreement that would have enabled the ferry's run to continue. Therefore, the privately-owned ferry has ceased operations, according to a new release from Loudon County.
Loudoun County was not involved in the legal dispute, although "the county remains concerned about the outcome from a regional transportation perspective," it states in the news release.
Montgomery County Executive Marc Elrich also expressed his concern. In a tweet, he wrote, the end of White's Ferry is "deeply concerning." Elrich noted that he directed Montgomery County Department of Transportation, the county attorney and the Loudon County government "to determine how best to address the closure."
In its news release, White's Ferry noted that it "regrets to inform the public that it was cease its Potomac River ferry operation."
"The Circuit Court of Loudoun County, Virginia has ruled, in the case of Rockland Farm, LLC, et al. v. White's Ferry, Inc., that no public landing exists on the Virginia shoreline at White's Ferry Road and the ferry is prohibited from landing at that location in Virginia," it states in the news release.
"As of the date of this press release Loudoun County, Virginia has declined to establish a public landing at that location," according to the news release.
Historic White's Ferry is the last of  about 100 ferries that used to operate on the Potomac River.  For $5 car fee and $2 pedestrian charge, the ferry followed a wire cable to cross the Potomac.
NOTICE: White's Ferry will CEASE Potomac River ferry operation btwn White's Ferry Road in Montgomery County, Maryland and White's Ferry Road in Loudoun County, Virginia EFFECTIVE IMMEDIATELY due to Circuit Court of Loudoun County, Va ruling – White's Ferry CROSSING CLOSED pic.twitter.com/KBvQLfNRH2

— Pete Piringer (@mcfrsPIO) December 28, 2020
This is massive news as Whites Ferry ceases operations. It was the only Potomac crossing in mid or up county and this seems like it will be shut down indefinitely pic.twitter.com/IJyTzuMKxN

— Moderately Moco (@ModeratelyMoco) December 28, 2020
I have directed @MCDOTNow and the County Attorney to work with their @LoudounCoGovt counterparts to determine how best to address the closure.

— County Exec Marc Elrich (@MontCoExec) December 28, 2020