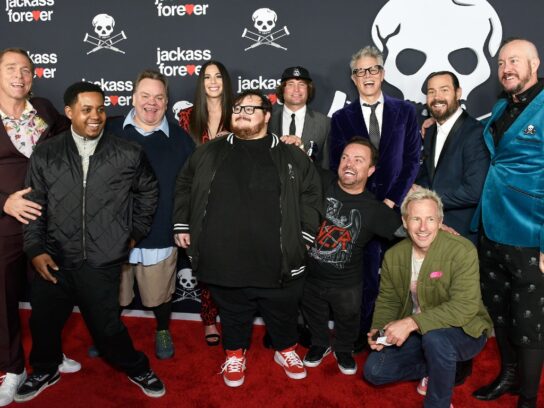 Two Walt Whitman High School graduates are on top of the world. Or at least on top of the latest movie box office list.
The latest installment of the Jackass franchise directed by Rockville native Jeff Tremaine was released Feb. 2 and has quickly gained popularity in movie theaters. Tremaine's long-time friend Spike Jonze, who grew up in Bethesda, also co-wrote and appears in the film. Jonze, born Adam Speigel, directed Being John Malkovich, Adaptation, Where the Wild Things Are and Her.
Jackass Forever topped the most recent box office list, pulling in over $23 million the weekend of Feb. 4-6. That's $13 million more than second place movie, Moonfall.
the #jackassforever hits just keep on coming… and coming… and coming. special 1-night fan event with bonus content tomorrow night, in theatres everywhere friday. tickets on sale now: https://t.co/2wuHw5n3SI pic.twitter.com/hVe4uvwT4L

— jackass (@jackassworld) February 3, 2022
"Jackass Forever" is the fourth movie in the series that followed the original TV show which aired for three seasons on MTV during the early 2000s. The franchise is known for its not-for-everyone comedy featuring dangerous and shocking acts among the cast.
The new film, which came after a 12-year hiatus, earned $23.5 million in ticket sales during the first weekend in theaters, according to an article from the Associated Press. Its rising popularity has been mostly attributed to the nostalgia it brings for those who grew up in the 2000s.
holy crap! #jackassforever is the no.1 movie in america. pic.twitter.com/5ZhVcu3dHr

— jackass (@jackassworld) February 7, 2022
The movie is currently out in theaters and tickets can be bought at jackassmovie.com. It is rated R for strong crude material and dangerous stunts, graphic nudity and language throughout.