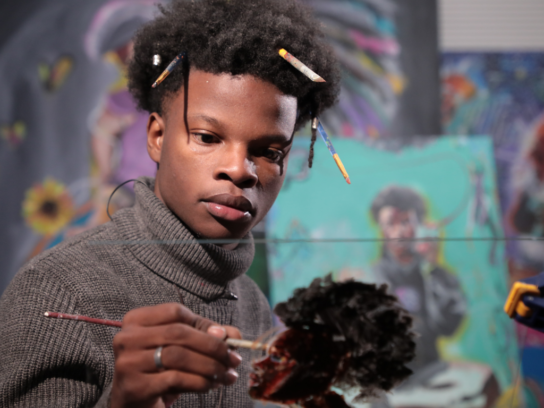 Doudgy "Dew" Charmant began creating art at the age of four with guidance from his uncle. He is a visual artist who tells stories with acrylic and oil paints.
Love, joy, sadness and revenge are some of the themes depicted in his paintings that provide a commentary on life. Charmant was profiled as part of MyMCM's series on Black Artists in Montgomery County. The series was originally created in January, 2021. This profile on Charmant won both a Capital Emmy and Telly award.
Watch the entire series of Black Artists in Montgomery County on MyMCM's YouTube channel or below.
Short Take: Doudgy 'Dew' Charmant, Black Artist in Montgomery County
In this short video, Charmant explains that he wants his artwork to be impactful. He strives to make the uncomfortable, comfortable in his art.
MyMCM's profiles of six Black artists: