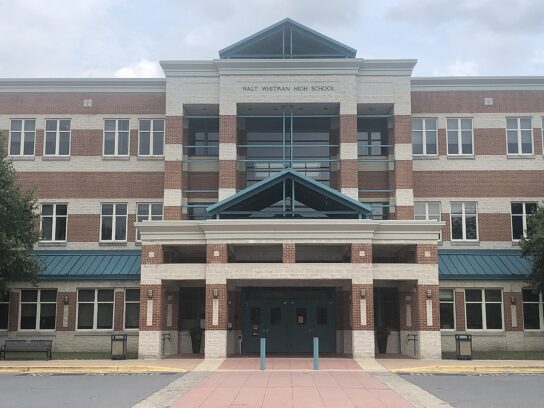 Montgomery High Schools Score High in U.S. News 2021 Rankings
The U.S. News & World Report released their annual Best High School rankings Tuesday. At No. 111, Walt Whitman High School in Bethesda and at No. 119, Poolesville are the only two high schools in Maryland to make the top 150 nationally.
U.S. News ranked more than 17,000 public high schools in the country based on their performance on state assessment and how well they prepare students for college. The six factors used to compile a score for each school include college readiness, math and reading proficiency, math and reading performance, underserved student performance, college curriculum breadth, and graduation rate.
Four Montgomery County High Schools are ranked among the top 10 public schools in Maryalnd according to the U.S. News report on Best High Schools in Maryland.
Walt Whitman in Bethesda is ranked as the best school in Maryland and  No. 111 in the country.
Poolesville High School follows Whitman as second best in the state and No. 119 in the country.
Wootton High School in Rockville was ranked fourth best in the state and No. 179 in the country. Churchill High School in Potomac ranked fifth in the state and No. 308 in the country.
Three other county high schools ranked within the top 20 in Maryland as well. Walter Johnson in Bethesda ranked No. 11 in the state and No. 453 nationally, while Bethesda-Chevy Chase ranked No. 13 in the state and No. 569 in the country. Richard Montgomery located in Rockville ranked No. 18 in the state and #755 nationally.
The data used by U.S. News came from U.S. Department of Education, statewide math and reading level assessment tests and high school graduation rates from the 2018-2019 school year, Advanced Placement examination data from the College Board, and the International Baccalaureate examination data from International Baccalaureate. More information is available about the methodology used to rank the high schools at U.S. News.
For the full national high school rankings, click here, and for the full Maryland high school rankings, click here.