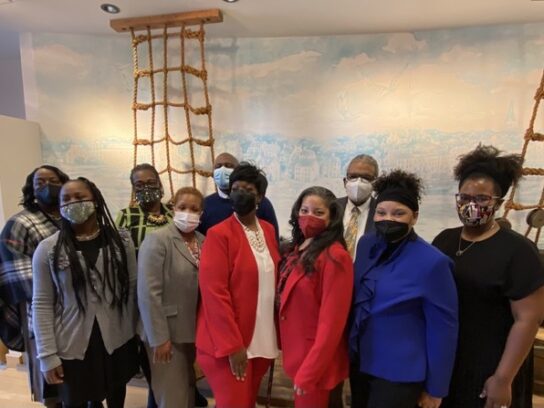 Annual Awards Ceremony Recognizes Excellence in Mentorship and Helping Others
The Governor's Office on Service and Volunteerism honored Montgomery County's Greg Wims and Nicole Drew Friday during the 5th Annual Black History Month Leadership & Service Award ceremony at the Benneker-Douglass Museum.
The award recognizes Maryland-based, African American (or of the African diaspora) individuals or organizations that are founded upon and exemplify exceptional service to Maryland communities.
"The Black History Month Leadership & Service Awards honors individuals and organizations who embody the spirit of community in Maryland," said Governor Larry Hogan. "We are so grateful for the incredible people who step up with their own time and resources to help others."
The eight honorees have made great contributions to Maryland, including inspiring a new generation of entrepreneurs, giving children the opportunity to read through book donations, and building upon generations of living history through teaching and art.
Greg Wims founded the Victims' Rights Foundation to assist victims and families of violent crimes and attacks. The nonprofit provides volunteer support services ot help victims recover from violent crimes and attacks.
The Victims' Rights Foundation was established in 1996 in response to the killings of three Washington D.C. Metropolitan area women Tamika Black, 19; Tanji Jackson, 21; and Mishan Chinn, 23, found in Beltsville, Maryland. These families were the first recipients of the Victims' Rights Foundation. Victims' Rights Foundation helped each family through difficult circumstances throughout the perpetrator's arrest, trial, and conviction.
Nicole Y. Drew is a labor and employment attorney for the federal government, but her service to the public extends beyond her job. Drew actively serves on the Montgomery County Commission for Women, the Silver Spring Chapter of The Links, Inc., Delta Sigma Theta Sorority, Inc., and the J. Franklyn Bourne Bar Association. As chair of the Montgomery County Delta Alumnae Foundation Inc. (MCDAF), Drew led the foundation's efforts to partner with the Montgomery College Foundation to create Science, Technology, Engineering and Math (STEM) scholarships.