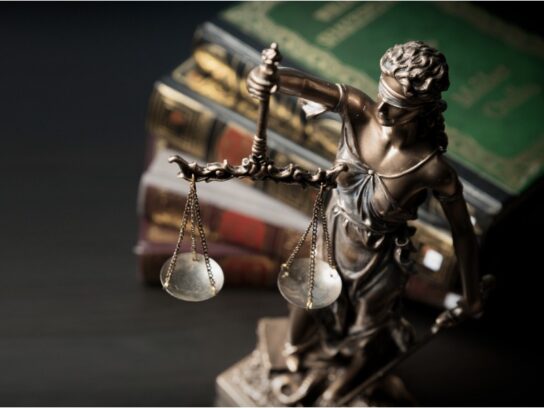 A Silver Spring woman will spend 41 months in prison for a federal wire fraud charge for submitting fraudulent and inflated invoices to two separate companies over 10 years totaling at least $855,000, a U.S. Attorney's Office statement said.
Rebecca Jelfo, 47, also must serve three years of supervised release, according to her sentencing.
U.S. District Judge Peter J. Messitte also ordered Jelfo to forfeit any proceeds or property obtained as a result of the scheme, and to pay back the $855,000.
According to her plea agreement, from approximately 2008 until December 2015, Jelfo was a marketing head for a global airline.  Between Jan. 4, 2016 and Jan. 31, 2018, Jelfo was a senior director of brand marketing for a global hospitality company.
Neither company was named in court documents. The airline was referred to as "Company A." The hospitality company as "Company B."
As part of Jelfo's duties at both companies, she contracted with marketing vendors and was responsible for approving certain marketing invoices.
Jelfo admitted that her over-invoicing scheme began while she was employed at Company A, the airline, and continuing throughout her employment with Company B, the hospitality company. The scheme was designed to defraud her employers, according to the plea agreement.
Jelfo knew that the invoices did not accurately reflect the products or services provided by the vendors, but nevertheless took steps to make sure that Company A and Company B paid the invoices, the U.S. Attorney's Office said.
After the companies paid the invoices, Jelfo instructed the vendors to remit payments to cover her personal debts.
As detailed in her plea agreement, Jelfo instructed three separate vendors to remit payments to cover her personal expenses.  Specifically, from as early as May 21, 2015 through August 24, 2016, Vendor A remitted payments for Jelfo's personal expenses totaling $263,697, including a $13,000 payment to Jelfo's Neiman Marcus credit card account and a $28,000 payment to Jelfo's Saks Fifth Avenue credit card account, the U.S. Attorney's Office said.
Vendor A also purchased $15,000 in American Express gift cards, some of which Jelfo used to make purchases at a high-end furniture store in Washington, D.C.
Similarly, while employed by Company B, Jelfo submitted false invoices purporting to come from Vendor B. After Company B paid the invoices to Vendor B, Vendor B remitted payments to Jelfo's personal credit card accounts.
For example, on Nov. 14, 2017, Vendor B sent $106,302 to Jelfo's American Express account, which was received from Company B as part of two fraudulently inflated invoices.
On at least one occasion, Jelfo instructed Vendor C to submit an inflated invoice to Company B and provided Vendor C with fraudulent documentation that appeared to justify the inflated invoice.
Based on Jelfo's request, Vendor C sent an invoice to Company B requesting a payment of $74,880.  After receiving the payment from Company B, Vendor C made a $64,851.24 payment to Jelfo's personal credit card account, as instructed by Jelfo.
Jelfo admitted that between May 21, 2016 and Jan. 31, 2018, she stole at least $855,587.25 from Company A and Company B as a result of this scheme.
A court document lists property Jelfo received as a result of her over-invoicing scheme. The items include:
A pair of diamond earrings from Boone & Sons Jeweler;
Chanel clothing and accessories;
Cartier jewelry;
Rugs from the Kellogg Collection;
A Peleton stationary bicycle; and
A Louis Vuitton suitcase.
Documents also show the court allowed Jelfo to travel to Rockville to visit her parents and to go to Frederick for three days to visit a knitting store.