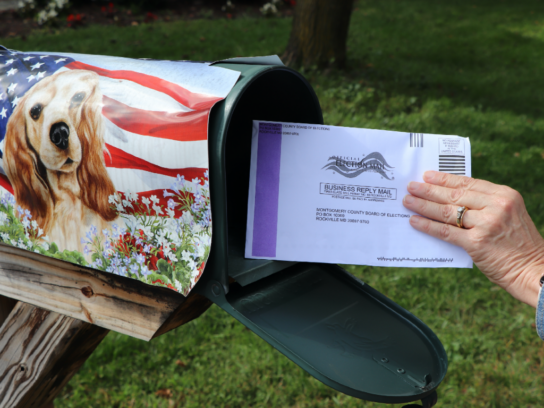 Maryland election officials have received more than 640,000 mail-in ballots ahead of Election Day on Tuesday. Residents who are interested in assuring that their ballot has been received, can check by searching their voter information at this link.
In addition to tracking their absentee ballots, voters can also check their registration status, view what will be on their ballot on Tuesday and check the location of their nearest polling places. 
The state Board of Elections has received roughly 48% of the more than 142,000 mail-in ballots sent to Montgomery County residents as of Monday at 6 p.m.
It says my ballot hasn't been received — what now?
The Montgomery County Board of Elections must receive all mail-in ballots by 8 p.m. on Election Day if residents deliver them in person. Mailed ballots must be postmarked no later than Election Day and must be received by 10 a.m. on Friday, Nov. 18 for them to count.
Voters can also call the Montgomery County Board of Elections to check the status of their mail-in ballot if it is not marked as received on the website. Residents can reach the Montgomery County elections board at 240-777-8500.
I have not received my mail-in ballot even though I requested one – what do I do?
Voters who requested a mail-in ballot between Nov. 1 and Nov. 4 – the last day to do so – were sent mail-in ballots online, rather than via mail. To return these ballots, residents should check for them in their emails, print them out and place them in a drop box or return them in person.
If voters have not received their ballots but requested one, they should contact their local board of elections. A representative of the local elections board can help residents vote before polls close today.
I'm still worried — can I vote in person instead?
If residents are worried their ballots will not make it in time, they can cast a provisional ballot on Election Day.
Provisional ballots are used when election workers need more time to determine a voter's eligibility – or, in the case of mail-in ballots, assure that each voter has only cast one ballot in this year's election.