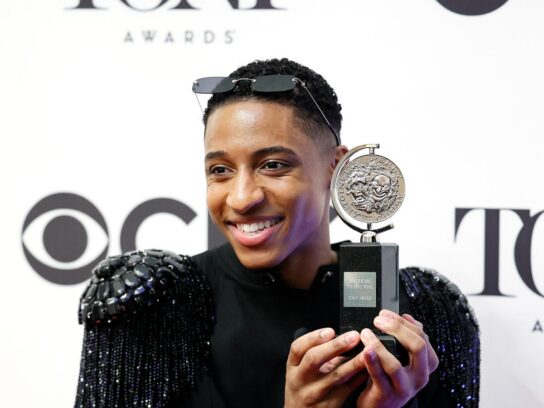 Myles Frost, a Thomas Wootton High School graduate, thanked his mother as he accepted his first Tony award one month before his 23rd birthday. "You taught me and showed me what a strong Black woman is and what it means to raise a strong Black man," Frost said during the show televised by CBS.
He was named best actor in a leading role in a musical for his portrayal of Michael Jackson in the Broadway musical, MJ. As he walked onto the stage and even while he accepted the award, Frost showed the theater world some of his Michael Jackson moves.
It was a role he has been practicing since his high school days in Rockville when he performed as Michael Jackson during a high school talent show.
"This is incredible and so well deserved," tweeted his  Wootton drama director Jessica Speck.
Frost beat out Rob McClure, Hugh Jackman, Billy Crystal and Jaquel Spivey who were also nominated for best actor.
This is incredible and so well deserved! 😭😭😭 https://t.co/y5fQSyzNJv

— Jessica Speck (@Mrs_Speck) June 13, 2022
Myles Frost is the moment! Congratulations to our lead on winning his first Tony Award® for Best Actor in a Musical! @thetonyawards #TonyAwards #MJtheMusical pic.twitter.com/w5jiffpzDj

— MJ (@MJtheMusical) June 13, 2022
Tonys, are you OK after that performance from @MJtheMusical? Because we're going to need a minute. #TonyAwards pic.twitter.com/IemTtavRCv

— CBS (@CBS) June 13, 2022
Myles Frost, a Wootton High School grad, won a Tony Sunday night for best actor on a leading role in a musical @mymcmedia pic.twitter.com/XHqlO3ulD4

— suzanne pollak (@SuzannePollak) June 13, 2022
Related Post
Wootton Alum Nominated for Tony Award as Best Actor in MJ the Musical