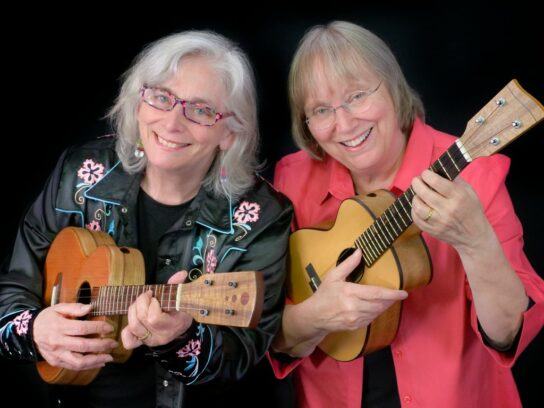 Strathmore announced Tuesday that its 12th annual UkeFest will be held virtually this August.
The event is typically held in Strathmore mansion and throughout the center's campus, but was reformatted this year to alleviate health concerns caused by the pandemic. Beginning on August 14, attendees will have the chance to enjoy six days of instructional workshops, performances and other activities—including jam sessions and open mics—which will conclude on August 19 with a finale concert at 7:30 p.m.
"UkeFest is one of our deepest and most distinctive programs – drawing world class faculty and inspiring players to collaborate and learn in a community setting. We will miss seeing everyone in person this year, but we are confident that we can capture the spirit of UkeFest via online platforms and maybe even widen our community this year," said Strathmore Director of Education Lauren Campbell.
UkeFest Artistic Directors Cathy Fink and Marcy Marxer will run the event alongside musicians and instructors: Maureen Andary, Chris Ousley, Jess Eliot Myhre, Peter Luongo, Liz & Jim Beloff and Bryan Tolentino.
"What often surprises new ukulele aficionados is the range of this small but mighty instrument—it is not limited to Hawaiian or Celtic music. It can be used to perform many musical genres including pop, rock, blues, swing, and jazz, all of which are explored during the event," said Fink.
Tuition, which is $175, will treat participants to an opening-night virtual party along with two days of skill building. Additional, private instruction can be paid for, for $50 per 45-minute session. Registration is required for the event, however, the final concert is free for anyone interested through Facebook—RSVPing is optional, but those who do will receive email reminders and additional links. Participants will be able to access recordings of classes and other programs for a month after the event ends.
For 12 years, UkeFest has provided a space where ukulele lovers can learn and continue to hone their skills as a collective. Though the venue has changed, the sentiment has not.