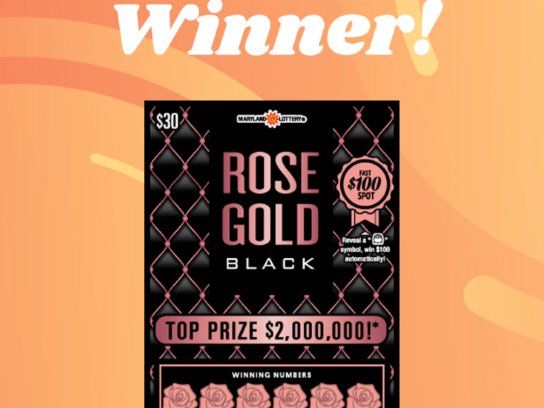 A liquor store in Takoma Park, Md. sold a scratch-off ticket with a prize of $2 million, according to a press release by Maryland Lottery.
A lucky Maryland Lottery player became a multimillionaire winning the top prize on a Rose Gold Black scratch-off. The Hyattsville resident claimed the second of five top prizes in the $30 game.
The 42-year-old Prince George's County player bought the game at T&J Beer, Wine & Liquor located at 7669 New Hampshire Avenue in Takoma Park. For selling the $2 million winning scratch-off, the Montgomery County Lottery retailer earns a bonus of $2,000 from the Lottery.
The second highest prize – which awards $500,000 – was sold in a Forest Glen BP in Silver Spring, Md.
A lucky lottery player in Takoma Park is celebrating their $2 million top prize win on the Rose Gold Black scratch-off. https://t.co/dH9P96RUj8 pic.twitter.com/eDkBesHIWQ

— Maryland Lottery (@MDLottery) November 9, 2020