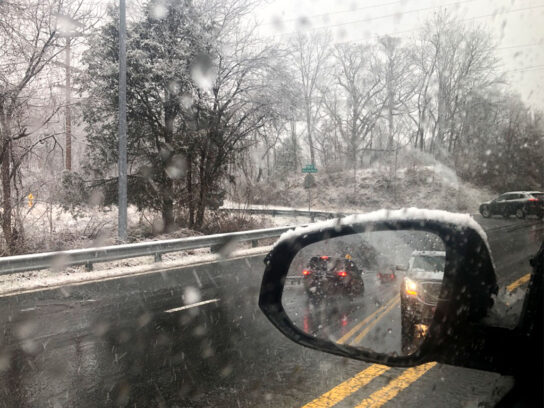 24 hours after the Virginia Department of Transportation (VDOT) announced on Twitter that portions of I-95 North and South were closed to incoming traffic, some drivers remain stranded. Both sides were initially shut down overnight Monday into Tuesday due to heavy snow in the Washington metropolitan area.
The stretch of road – about 40 miles outside of Montgomery County – ranks as one of the busiest highways in the country. It is the U. S. East Coast's main north/south artery. Here is how the story unfolded on social media:
To safely reach stranded motorists & get traffic moving once again, I-95 north & south is closed to incoming traffic at Exit 152/Dumfries Rd. in Prince Wm Co. to Exit 104/Carmel Church in Caroline Co.@pwcgov @PWCPolice @CarolineGov https://t.co/emrkbfiXM0

— VA State Police (@VSPPIO) January 4, 2022
Virginia Governor Ralph Northman said on Twitter "An emergency message is going to all stranded drivers connecting them to support, and the state is working with localities to open warming shelters as needed".
My team has been working throughout the night alongside @VSPPIO, @VaDOT, and @VDEM to respond to the situation on I-95.

State and local emergency personnel are continuing to clear downed trees, assist disabled vehicles, and re-route drivers.

— Governor Ralph Northam (@GovernorVA) January 4, 2022
Virginia Governor Tim Kaine was one of those caught in traffic.
I started my normal 2 hour drive to DC at 1pm yesterday. 19 hours later, I'm still not near the Capitol. My office is in touch with @VaDOT to see how we can help other Virginians in this situation. Please stay safe everyone. pic.twitter.com/Sz1b1hZJZ5

— Tim Kaine (@timkaine) January 4, 2022
Here are some Tweets of drivers:
We have been driving since this morning and are stuck in this horrendous traffic jam on I-95 S … Fingers crossed we will make it to Florida by tomorrow night … Gridlock for 6 hrs … No bathroom no dinner and hopefully we will find a gas station soon ! pic.twitter.com/BwnmcwrmcZ

— kathy schultheis (@KathySchultheis) January 4, 2022
6:33am – Been in gridlock traffic on I-95 north just south of Stafford, VA for over 9 hours. People turning off cars to save gas, then get cold & turn back on. People hitting point of no return, shielding themselves with car doors & pee in the street.
When do we get our jetpacks? pic.twitter.com/KRaeKGXaLO

— Susan Phalen (@SAPOTUS) January 4, 2022
I-95 Between Richmond and Beltway is Achille's heel of Virginia

Region has seen explosive growth and major North/South East Coast interstate

Recipe for traffic on normal day and disaster when snowing

Hoping those stuck can get home soon https://t.co/LuoRnMNBmZ

— Sam Shirazi (@samshirazim) January 4, 2022
I just saw the I-95 traffic jam in Virginia. 17 hours! In the freezing cold!

— Sunbeams Are Free (@JackDeTate) January 4, 2022