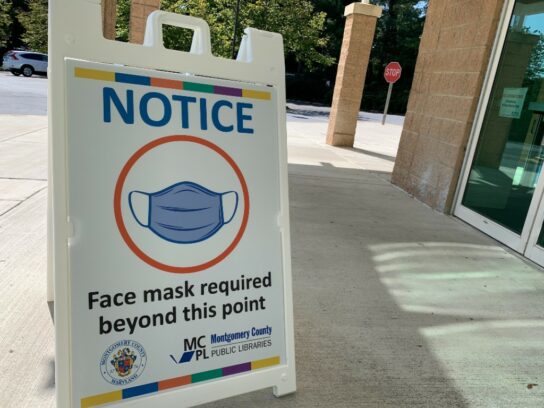 Montgomery County's indoor mask mandate has been extended to Jan. 31. 
The county council, sitting as the Board of Health, voted unanimously Tuesday to remove the previous mandate's automatic termination which was set to kick in once 85% of the total county population is fully vaccinated against COVID-19. That number is currently at 83.3%, per the CDC. 
The new mask mandate will automatically terminate Jan. 31 at 11:59 p.m., per an amendment proposed by Councilmember Andrew Friedson, which was also unanimously approved. The resolution additionally removes the requirement to end masking when the county sustains moderate COVID-19 transmission for seven straight days. 
The indoor mask mandate was already in effect and the new resolution goes into effect 12 a.m. Tuesday night, Jan. 5. Council President Gabe Albornoz said councilmembers will reassess on Jan. 25.
As of Monday, 459 people were hospitalized with COVID-19 in Montgomery County, Public Health Emergency Preparedness Manager Sean O'Donnell said earlier during the council meeting. 315 of those patients are receiving acute care, 70 are ICU-hospitalized and 74 people are at an alternate care site in Takoma Park.
About one month ago on Dec. 7, 130 patients were hospitalized with COVID-19 throughout the county. 
MASKS: Montgomery County Council (as Board of Health) votes to continue indoor mask mandate and removes automatic termination set for when 85% of county is vaccinated (currently at 83.3%).

Will terminate Jan. 31 at 11:59 p.m. Council will discuss again on Jan. 25. @mymcmedia

— Maryam Shahzad (@maryam_mcm) January 4, 2022