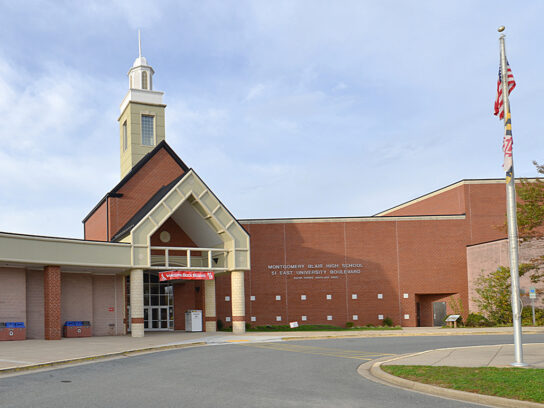 26 Montgomery County seniors have earned National Merit Scholarships in the second round of awards from the National Merit Scholarship Corporation (NMSC).
Awardees were selected from more than 16,000 students nationwide and were among 47 awardees chosen in Maryland. The awards provide recipients with a one-time award of $2,500 for college tuition.
This group of awardees were selected by a committee of college admissions officers and high school counselors, who appraised a substantial amount of information submitted by both the students and their high schools, including the academic record, scores from the Preliminary SAT/National Merit Scholarship Qualifying Test (PSAT/NMSQT®), contributions and leadership in school and community activities, an essay written by the student, and a recommendation written by a high school official.
The National Merit Scholarship Corporation (NMSC) was established in 1955 to honor scholastically talented youth and encourage academic excellence at all levels of education. The scholarships are privately funded by NMSC and are underwritten by more than 400 corporate and college sponsors. Recipients are judged to have the strongest record of accomplishments and the greatest potential for success in college.
The winners of the  scholarships, with their intended career fields, are:
Melvin J. Berman Hebrew Academy
Tekoa Sultan-Reisler, environmental policy
Bethesda-Chevy Chase High School
Sofia G. Fontana, mathematics
Montgomery Blair High School
Dheeraj U. Keshav, computer science
Esther Tang, neuroscience
Christopher L. Tong, chemistry
Chad K. Yu, applied mathematics
Mark G. Kokiyelov, physics
Nicole E. Tran, optometry
Gabriel D. Wu, Computer Science
Fiona D. Harrington, environmental science
Charlotte S. Wallsten, medicine
Winston Churchill High School
Jeffrey J. Luo, biochemical engineering
Georgetown Preparatory School
Joshua J. Balbach, chemistry
Colonel Zadok Magruder High School
Benjamin Kwiatkowski, biomedical Engineering
Paint Branch High School
Mary E. Shawhan, undecided
Poolesville High School
Sabrina I. Su, architecture
Jane Liu, computer science
Joshua Hou, finance
Rockville High School
Jaxon D. Lee, computer science
Charles E. Smith Jewish Day School
Jane A. Trainor, medicine
Wheaton High School
Rebecca J. Baxter, biomedical engineering
Walt Whitman High School
Susan B. Rodgers, healthcare
Rachel E. Scissors, biology
Thomas S. Wootton High School
Amy X. He, healthcare
Daniel S. Hwang, pubic health
Jennifer J. Li, computer science
Visit National Merit Scholarship Program to learn more about the program.
Previous Posts
Nine MCPS Students Awarded Corporate-Sponsored National Merit Scholarships