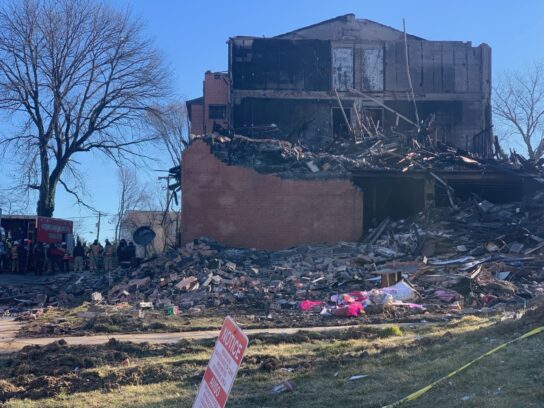 Following Thursday morning's explosion at the Friendly Garden Apartments on Lyttonsville Road in Silver Spring, all leaseholders have been located.
Montgomery County Police and Fire and Rescue Services continue to search for anyone—alive or dead—under the ruble as there may have been visitors, explained County Fire Chief Scott Goldstein.
Twelve people were transported to the hospital and two others took themselves to the hospital. Of those 14 people, three remain in serious condition, Goldstein said. One of the victims that was transported went to work after the explosion but called 9-1-1 and was then transported to the hospital.
Here is the press briefing that was held Friday morning.
While the cause is not yet known, Goldstein said that a maintenance person was working on plumbing when the explosion occurred. As of Friday morning, he was still hospitalized but cooperating in the investigation. Goldstein said the maintenance person was not working on anything flammable.
Of the six apartment buildings, one was totally destroyed and two more were damaged. The other three are habitable, but none have electricity currently.
Police and fire investigators are in charge of the investigation and "are not ruling out any active theories," Goldstein said. Should the investigators believe that the explosion was caused by a gas leak or something in either Washington Gas or Pepco's purview, officials from those utilities would then take the lead in the investigation, he said.
Friendly Garden Apartments is up to date with county inspections. Fire officials last checked the fire alarms and sprinklers and exits on Feb. 2. The building also is checked by a county building code inspector every three years. That last inspection occurred in September 2021, Goldstein said.
These inspections do not include checking mercury service regulators as that is done by Washington Gas. Federal officials ruled that the cause of another area explosion was due to a faulty indoor mercury regulator. That fatal explosion occurred at Flower Branch Apartments in Silver Spring in 2016.
Friday morning, dogs were searching for people and human remains. Officials also will "remove concrete by hand" in search of people, he said.
During the explosion, the transformer that provides power to the entire complex was destroyed. It will take five to seven hours to bring electricity back tot he buildings. That worked started last night but was stopped, although Goldstein did not say why. Pepco workers were expected back on the scene this morning.
About 230 residents were displaced in the explosion, including 120 in the destroyed building at 2450 Lyttonsville Road. Only three of those displaced went to a county-set up shelter at the White Oak Recreation Center. The rest found a place to stay with family or friends, Goldstein said.
The apartment building at 2405 was engulfed completely in flames. Apartments at 2401 and 2411 were damaged and currently considered unstable.
MHP, Making Home Possible, is collecting money to help the displaced and injured residents. Already, it has collected $220,000.
Related Post
Residents, County Cope with Aftermath of Silver Spring Apartments Explosion