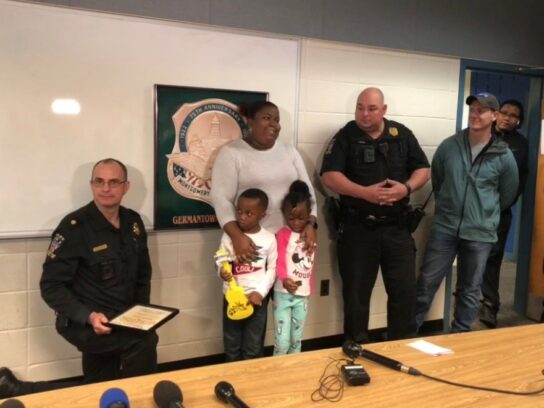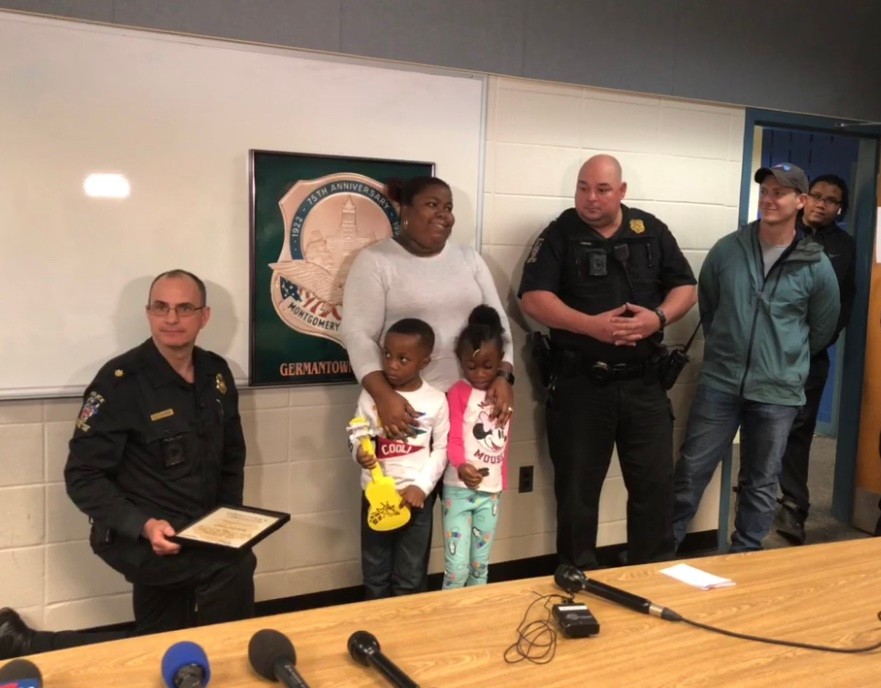 Aiden George, 4, was awarded the Commander's Certificate of Appreciation on Jan. 14 at the Germantown District Police Station. He was honored for helping officers locate his mother after she had a medical emergency and fell unconscious. He and his older sister, Malia, 5, received police badges.
Sgt. Peter Johnson nominated Aiden for the award, and Germantown District Commander Mark Plazinski and Lt. Jae Hwang presented it. Aiden's mother, Treica, accompanied him.
"Malia stayed with her mom and Aiden decided he was going to go get help. He walked over a third of a mile on that cold day to his house looking for somebody to help his mom," said Plazinski.
On Dec. 20, 2019 at about 2:30 p.m., someone called 911 to report he found Aiden crying and walking alone on Thunderhead Way in Germantown. Upon arrival, officers talked to him, and Aiden told officers his name and showed them where he lived on Thunderhead Way.
No one was home, and Aiden led officers to believe his mother was having a medical emergency. They found Treica unconscious in a car in the parking lot of Waters Landing Elementary School, with Malia in the car with her. Montgomery County Fire and Rescue Service (MCFRS)‌ took Treica to a hospital.
When asked how she felt about the award, Treica said, "I'm excited and really happy and grateful to both of them for basically saving my life… I woke up and they said my son saved my life."
Treica said she has diabetes, but an incident like that has never happened before.
When asked how he and his sister decided what to do when their mother fainted, Aiden said, "We figured it out together."
Aiden also received a belated Christmas gift. Plazinski said the only thing Aiden did not get for Christmas was a "giraffe guitar," and Sgt. Johnson was able to find one and presented it to Aiden at the ceremony.
Treica said Aiden switches between wanting to be a police officer or a chef when he grows up.