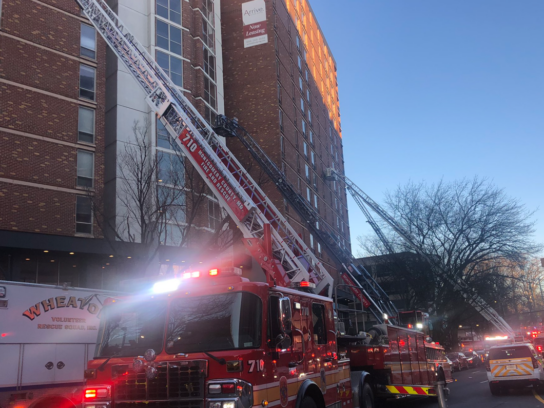 Residents at the Arrive Apartments in Silver Spring were still traumatized two days after a three-alarm fire in their 15-story building on Georgia Avenue. One woman died, several were injured and hundreds were displaced.
As of Monday afternoon, 89 apartment units were condemned following the fire on the seventh floor that was contained to one unit.
Montgomery County Fire Chief Scott Goldstein said the cause of the fire was under investigation, but he believed that the residents in that apartment had tried to put out the fire themselves and had their door open before calling 9-1-1. That led to flames and heavy smoke spreading throughout that floor, the stairwells and a few floors above and below the seventh floor, Goldstein said during a press conference.
Mary and Henry, who did not wish to give their last name, and their eight-year-old son were loading up their car Monday and headed to Pennsylvania to stay with relatives. They were hoping to return to the area quickly to be near their jobs and their son's school and said they didn't know how long before they would be permitted to return to their apartment.
The family was asleep when a neighbor banged on their door and alerted them to the fire. "We were scared," Mary said.
"There was a significant amount of smoke. We managed to get out just in time," Henry said.
Kim Buck was just beginning to get ready for work when she heard the fire alarm. "I thought it was another false alarm. We get a lot of them." But when she put her eye into her door's peephole, she knew it was bad. There was smoke everywhere she looked.
She grabbed her keys, phone and charger and a few other things before fleeing her apartment. She wore a face mask and tried to cover up her mouth and nose from the smoke.
As soon as she got into the hallway, "I couldn't see at all," she said. She made her way to the end of the hallway and into the stairwell and started to make her way down before quickly realizing she wasn't going to make it. "That smoke, you could cut it with a knife," she described, adding, "I could not hear a soul."
She returned to her apartment and called 9-1-1 and was told to stay in her apartment, put a wet towel under her door and another towel in her window so that the firefighters would know to rescue her.
The emergency worker who answered her call stayed on the phone with "a long time," she said. "It was scary." she said.
After she was helped from the building, she was still having difficulty breathing from all the smoke so she went to the emergency room, where she was treated and released.
She has since done a lot of laundry to rid her apartment and belongings of the smokey smell.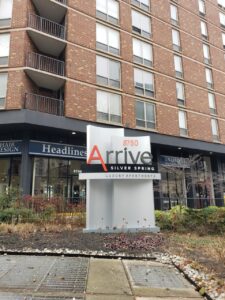 Nelsy Affoum, a sixth-floor resident, was awakened by a knock on her door by a fellow resident. "I just grabbed my bag, put on flip flops and a coat," she said, adding, "I was real cold."
There was thick smoke everywhere, especially the staircase as she made her way down. "I was definitely scared. I was just shocked."
While her apartment was not condemned, Affoum decided to stay at a hotel in Bethesda that night that the apartment management paid for. "Psychologically, I couldn't" go back into the apartment right away, she said.
Arrive management helped people stay at the DoubleTree hotel directly across the street. They also hired people to clean up units that received water and smoke damage, said Patrick Campbell, Montgomery County's senior emergency manager.
The unit has about 450 apartments and consists of two wings, each with 14 floors with residences.
Montgomery County Fire and Rescue transported seven people to the hospital, two in critical condition. They also took three firefighters, all who were treated and released. Another 10 to 12 people went to the hospital on their own, Goldstein said during the press conference.
The fire was put out in about 20 to 30 minutes, he said. MCFR was alerted to the fire when a resident on the eighth floor called 9-1-1 to report heavy smoke in the building.
"There was some pretty significant fire and smoke conditions when we arrived," said Pete Piringer, spokesperson for MCFR.
The complex has sprinklers only in the stairwells and mechanical rooms. There aren't any in individual apartment units, according to Goldstein. He also said the fire alarms had to be manually pulled and were not automatic.
The cause is under investigation. One thing MCFR is looking into is the possibility of an aerosol can overheating.
Between 100 and 150 MCFR emergency workers were on the scene.
(~6a) 8750 Georgia Ave. , The Arrive, Fire on 7th floor, fire extinguished, @mcfrs FFs assisted numerous residents, ~20 people hospitalized, hundreds will likely be displaced, https://t.co/8jivYgVX96 pic.twitter.com/CiKOUmNvfw

— Pete Piringer (@mcfrsPIO) February 18, 2023