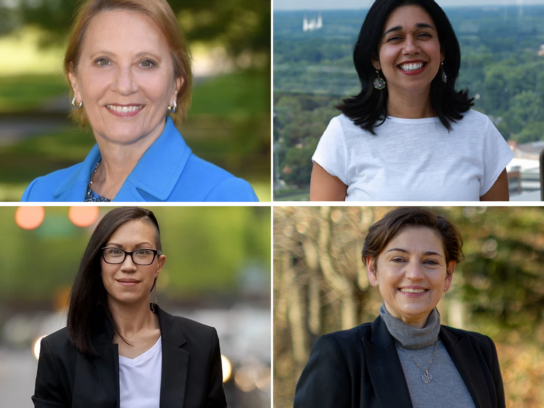 The incoming 11-member county council appears headed for a female majority, if the current top vote getters prevail, and the Democrats, who hold a four-to-one lead in voter registration, prevail in the November general election.
All results are unofficial. The Montgomery County Board of Elections continues counting mail-in votes Saturday and probably will continue into next week. Election officials also must count provisional ballots before results are declared final.
These four women just won their Democratic primaries for seats on the Montgomery County Council.

I'm so excited to serve alongside them! pic.twitter.com/RS3irVB6KZ

— Evan Glass (@EvanMGlass) July 23, 2022
In District 2, Marilyn Balcombe currently has 47.7% of the vote. In second place is William Roberts with 28.49%.
In District 4, Takoma Park Mayor Kate Stewart leads with 43.45% of the vote. Her closest challenger, Amy Ginsburg, issued a statement acknowledging Stewart was the likely winner.
"I am filled with gratitude and pride," Ginsburg wrote, adding, "it looks like Kate Stewart will be the next District 4 Councilmember."
In District 5, Kristin Mink is leading with 41.2% of the vote. Fatmata Barrie currently holds second place with 25% of the vote.
In District 6, former Montgomery County planning commission board member Natali Fani Gonzalez is leading with 53.77% of the vote. Maricé Morales is in second place with 16.6% of the vote.
In both Districts 5 and 6, should the second place winner amass enough write-in votes to win the Democratic nomination, the race in November still would have females representing those districts.
In District 7, two women are running first and second. Dawn Luedtke has 32.5% to Jaqueline Manger's 24.1%.
With four open spots, former Gaithersburg Councilmember Laurie-Anne Sayles currently is in fourth place for the council-at-large seat.
Additional results are expected to be posted Saturday around 11 p.m.