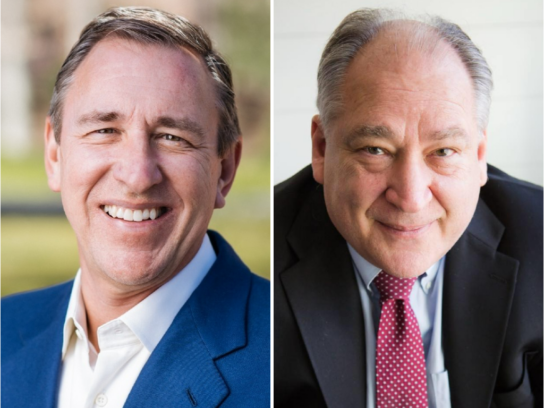 County Executive Marc Elrich inched into the lead Friday night with the addition of the counting of 13,500 mail-in votes. As of 11 p.m. July 22, Elrich has 35,300 votes to businessman David Blair's 35,004.
Counting of mail-in votes resumes Saturday at 10 a.m. in Germantown and results from that count are expected to be posted at 11 p.m.  Final results are not expected at that time.
According to unofficial results by the Maryland Board of Elections as of 11 p.m. Friday, Elrich, who had been down by about 550 votes, now leads by 296 votes. Elrich has 39.3% of the vote to Blair's 38.97%.
The winner is expected to face Republican Reardon Sullivan in the November general election. He currently leads Shelly Skolnick 9,915 to 5,739.
The four top vote getters on the Democratic ticket for county council at large remain the same. Councilmember Evan Glass is the unofficial top vote getter, followed by Councilmember Will Jawando, Gabe Albornoz and Laurie-Anne Sayles. If their leads remain, they will face the three unopposed Republican candidates for the four open seats.
Councilmember Tom Hucker, who currently is in sixth place, issued a statement congratulating the other candidates and admitting, "it looks like we came up short." He also said he was proud of his campaign and pledged to continue working hard on council until the end of his term.
Hucker's District 5  was redistricted, and he chose at first to run for county executive and then for council at large.
Residents can watch the vote counting either in person or by Zoom. The schedule may be found on the board's website.
ENDLESS GRATITUDE & RECOGNITION TO OUR CANVASS WORKERS & STAFF! ❤️ ¡GRATITUD Y RECONOCIMIENTO SIN FIN A NUESTROS TRABAJADORES Y PERSONAL DE ESCRUTINIO! 🇺🇸 pic.twitter.com/gjbGQxHo3y

— MontgomeryMDVotes (@777Vote) July 23, 2022
ATTENTION MoCo! Hit "REFRESH" button now…https://t.co/55Aiafrif2
*For canvass info, calendar & livestream: https://t.co/ceVrHWSFN0#YourVoiceYourVote2022 pic.twitter.com/gE5Cu6l0mU

— MontgomeryMDVotes (@777Vote) July 23, 2022