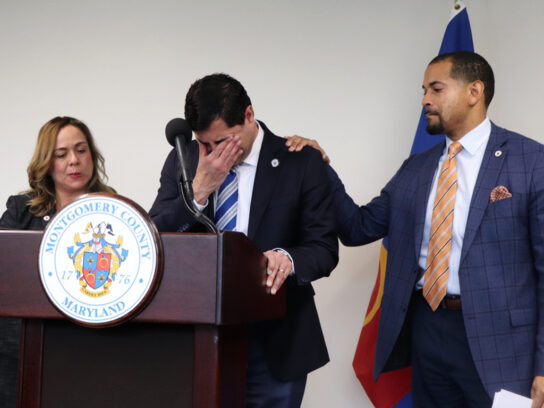 Montgomery County Councilmember Gabe Albornoz led an emotional press conference denouncing the Supreme Court's Jan. 27 "public charge" immigration decision.
The 5-4 decision was voted on along party lines—the four judges appointed by Democratic presidents all voted "no." It will make it more difficult for immigrants, who have used benefits like Medicaid and food stamps, to obtain permanent residency in the United States.
Albornoz and Councilmember Nancy Navarro are the lead sponsors on a resolution that denounces the Supreme Court decision and calls on the U.S. Congress to enact comprehensive immigration reform. While speaking about the decision, Albornoz got emotional as he shared a story about his mother's family immigrating to the United States from Santiago, Chile.
"We are here on behalf of so many families that are under attack," Albornoz said.
Albornoz said the decision affects poorer immigrant communities. Navarro echoed this point and said the decision is meant to "sow fear in the community and confusion."
"There are going to be so many families and so many community members who do not access healthcare services precisely of that fear," Navarro said.
Montgomery County's Department of Health and Human Services says it has seen a decline in the immigrant population trying to access benefits. Raymond Crowel, the director of Health and Human Services, said the department is obligated to serve all county residents.
https://www.instagram.com/p/B8KfznOhPci/
The bill is co-sponsored by the seven other councilmembers. Council President Sidney Katz and Councilmember Will Jawando also spoke about the Supreme Court decision and shared emotional stories about their relatives coming to America.
"The blood that runs in all of our veins […] is equally American," Jawando said.
County Executive Marc Elrich denounced the decision and maintained that the immigrant community in Montgomery County has had a positive economic and social impact on the community.
"You can't go anywhere in this county and not see the work and the presence of immigrants," Elrich said.