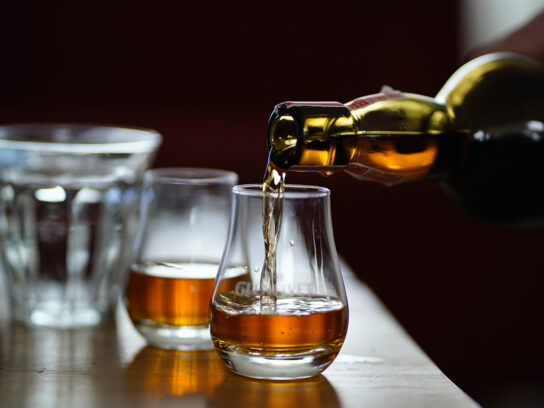 Montgomery County's Department of Alcohol Beverage Services is marking its 70th anniversary with the release of three limited edition products.
Starting July 2, a specially designed beer and two whiskeys will be sold in most of the 26 ABS retail stores, according to a Montgomery County press release. ABS asked a Maryland brewery and distillery to create the products for the anniversary celebration as a continuation of the mission to serve customers in innovative ways.
The custom beer called "Together We Can-70th Anniversary Cold IPA" was created by Silver Branch Brewing of Silver Spring. The name "Together We Can" is meant to allude to the expansion of breweries in the county supported by ABS over the past decade.
According to the ABS website, the cold IPA is brewed cool with lager yeast but dry-hopped like an IPA. ABS described it saying, "Crisp, hoppy and drinkable, it celebrates the importance of community and the notion of always moving forward while learning from the past."
The two custom whiskeys were created by Old Line Spirits in Baltimore with the names "Pat's Pick, American Single Malt Whiskey Cask Strength Private Barrel" and "Perennial Pick, American Single Malt Whiskey Cask Strength Private Barrel." "Both were created to honor employees with 30 or more years of service," said ABS Senior Marketing Officer Melissa Davis.
The name "Perennial Pick" highlights the long-lasting dedication of ABS employees and was chosen because the word perennial means "lasting or existing for a long or infinite time." The name "Pat's Pick" honors one of ABS's employees Patrick Grass who works in the warehouse and wholesale division and is celebrating his 30th year of service this year.
The tasting notes from the ABS website are:
Pat's Pick: "This barrel has a lot of notes that are reminiscent of a well-aged bourbon but with a rich, malty base that really anchors it in the single malt realm.  Caramel and vanilla on the nose lead into wonderful baking spice notes on the palate with some ripe stone fruit notes (these accentuate as the whiskey breathes) and a flavor of caramel.  Really nice balance of sweetness and tannins."
Perennial Pick: "This barrel trends close to Old Line's flagship flavor profile but with some really nice stand-out notes that make single barrel picks so fun.  As always, caramel and vanilla lead the way with really nice biscuity and toffee notes right behind.  Dried dates and figs tie it all together."
ABS is the alcohol wholesaler of beer, wine and spirits in addition to managing the alcohol licensing, enforcement and education of more than a thousand businesses. The department generates more than $30 million in net income each year for the County.
The Montgomery County Liquor Board was formed in 1933 at the end of prohibition to uphold alcohol laws. On July 1, 1951, the County Department of Liquor Control was created and then it was renamed to the Department of Alchohol Beverage Services in 2019 to emphasize the commitment to customer service as well as all of the products it offers.
"For 70 years, ABS has served Montgomery County well, and over the past few years, has successfully refocused its efforts on improved customer service and efficiency," said County Executive Marc Elrich in the press release. "ABS provides the County with millions of dollars in revenues that help fund government operations. I want to congratulate and thank ABS for its service, professionalism and innovation."
Over the past 10 years, ABS has generated more than $298 million in net income while depositing a large portion of those funds into the County's general fund to pay off debt so that tax dollars won't have to be used. In 2020, the department's net income was over $30 million which was 50 times the amount generated during their first year of operation.
"We are honored to be a part of the Montgomery County community and provide much more than a financial benefit," said ABS Director Kathie Durbin. "We realize ABS is a resource to our customers of all types and we are committed to providing creative solutions and outstanding service while building deeper relationships with all of those that we serve."
For more information about ABS, visit their website here.