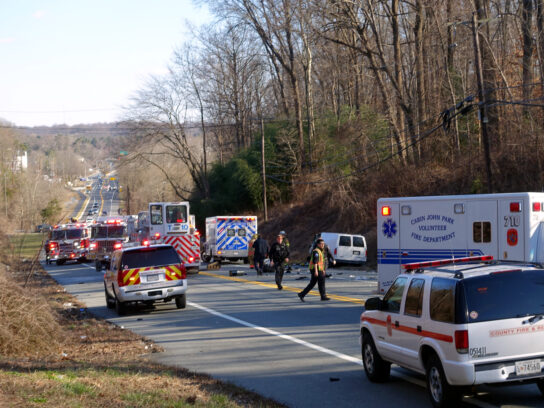 Work has begun on the long anticipated roadway improvement project along River Road in Bethesda.
The $1.9 million project, which aims to improve safety between Braeburn Parkway and Pyle Road, is expected to be completed by spring 2021.
For years, residents and councilmembers alike have voiced concerns about the deadly intersection, which in 2016 was the site of a fatal accident that killed a Walt Whitman High School student and his parents. A petition, circulating within weeks of the incident, called for a thorough traffic study to examine possible solutions to improve safety at the site.
In a 2016 letter, several elected officials shared resident safety concerns.
"Local residents report that the combination of high speeds on River Rd., limited visibility due to the nearby crest of the hill, wide travel lanes, and proximity to the Beltway make this intersection particularly dangerous," the letter read. "As this is a major entry point for a local high school, we must take all possible steps to address the unsafe conditions."
Some improvements to the one-third of a mile stretch include the construction of an American Disabilities Act compliant sidewalk, the relocation of a pedestrian sidewalk and the installation of pedestrian-activated traffic signals.
Cars on Braeburn Parkway will be prohibited from driving across River Road and concrete islands are also being added to prevent cars from turning left from Braeburn onto River in either direction.
During construction, drivers should expect single-lane closures between 9 a.m. and 3 p.m. on weekdays and overnight multiple-lane closures.  Some sidewalks will also temporarily close to accommodate tree removal for the project.