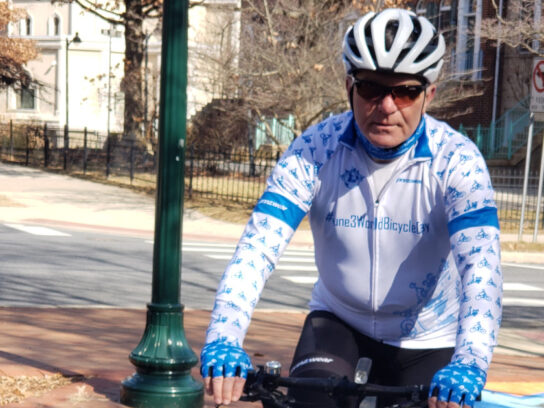 Fifth graders from the Stone Ridge School of the Sacred Heart in Bethesda celebrated World Bicycle Day June 3 by going out for a spin.
World Bicycle Day was initiated by North Bethesda resident Leszek Sibilski, who said he has been cycling "since I was basically born." He cycled in the 1980 Olympics for his native Poland and was ranked sixth in the world and second in Europe around that time and was a member of the Polish national cycling team for 10 years.
He petitioned the United Nations to declare June 3 World Bicycle Day in hopes of convincing more people around the world to cycle to work and shopping and for exercising and creating a sustainable world. All 193 member states agreed.
Several local groups and businesses participated, including Suburban Hospital John Hopkins Medicine in Bethesda.
At Stoneridge, the students learned about bike safety and repairs and even snacked on bicycle cookies.
The new @UN bicycle resolution: "Integration of Mainstream Bicycling into Public Transporation Systems for Sustainable Development" proposed by🇧🇭 & 🇹🇲 was unanimously passed by all 193 member-states & co-sponsored by 62 nations & decisively supported during negotiations by🇺🇸! 🚲 pic.twitter.com/XwYkxmfkH8

— Leszek J. Sibilski (@Leszek33) March 20, 2022
We're excited to take part in @BikeToWorkDay and looking forward to #WorldBicycleDay on June 3! @Leszek33 @Marcus_Graham1 pic.twitter.com/DdEeMlf4c2

— Suburban Hospital JHM (@SuburbanHosp) May 20, 2022
Related Post
North Bethesda Man Rode Idea for 'World Bicycle Day' Straight to the United Nations