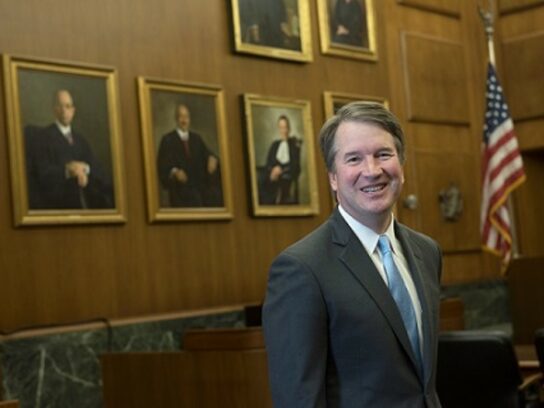 A California man faces federal charges for attempted murder of a Supreme Court Justice, according to the United States Attorney for the District of Maryland. 
At approximately 1:05 a.m. on Wednesday, two United States Deputy Marshals observed Nicholas John Roske, 26, of Simi Valley, California dressed in black clothing get out of a taxicab in front of Justice Brett Kavanaugh's Chevy Chase home, according to court records. The marshals also noticed Roske carrying a backpack and suitcase. The suspect made eye contact with officials and then turned to walk down the street. 
 A few minutes later, Roske called the Montgomery County Emergency Communications Center saying he had suicidal thoughts and had a firearm in his suitcase, court records say. Roske also told the 911 dispatcher he had traveled from California to Maryland to kill a specific Supreme Court Justice. 
Montgomery County Police officers responded to the residence. Upon arrival, they arrested Roske and seized his backpack and suitcase. Offices found a black tactical chest rig and tactical knife, a pistol with two magazines and ammunition, pepper spray, zip ties, a hammer, screwdriver, nail punch, crow bar, pistol light, duct tape, hiking boots with padding on the outside of the soles, and other items, according to court documents. 
Roske allegedly told detectives he was upset about the leak of a recent Supreme Court draft decision regarding the right to an abortion. He also expressed his frustration about the school shooting in Uvalde, Texas. 
If found guilty, Roske faces a maximum sentence of 20 years in federal prison.
My statement regarding the incident near the residence of Justice Brett Kavanaugh: pic.twitter.com/AmLeH4NXFt

— Governor Larry Hogan (@GovLarryHogan) June 8, 2022
Related Post: